Jess is back with her  delicious low calorie, high protein meal ideas! The perfect foodie inspiration for your diet meal prep, speedy lunches or 'fakeaway' nights in. Whether you're following our meal replacement diet plan, or using exante to maintain your new weight loss achievements, these recipes are perfect to help you switch up the menu, without compromising on taste!
CHICKEN TIKKA MASALA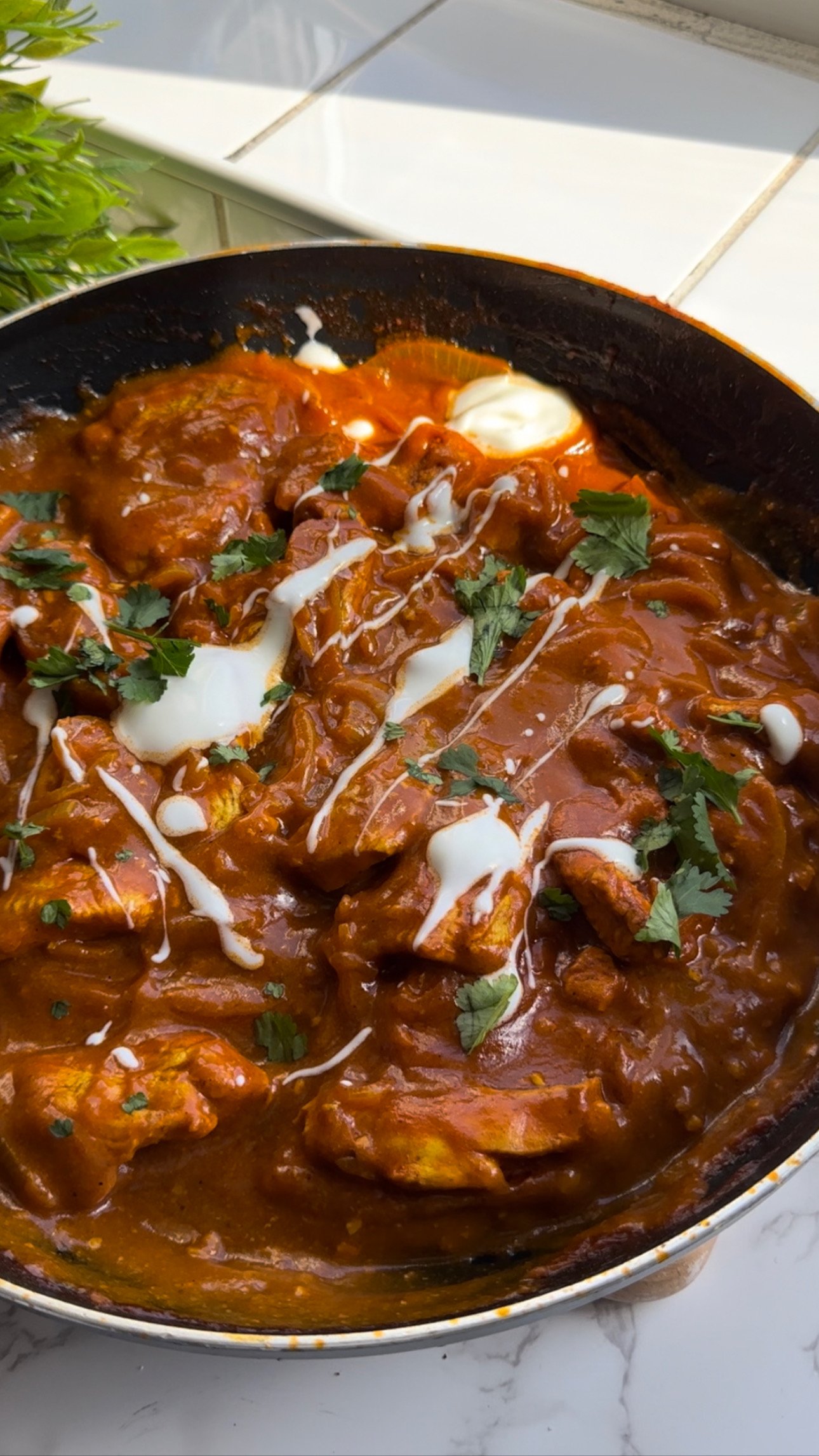 📍 Serves 4
📍 289 Calories per portion
2 tbsp Olive Oil
30g Ginger, finely sliced or crushed
5 cloves Garlic, finely chopped or crushed
1 Onions, finely diced
1 tbsp tomato purée
500g Chicken Breast, diced
1 tbsp Garam Masala
1 tbsp curry powder
100ml Water
400g tin of Cream of Tomato Soup
50g Natural yoghurt
Method:
Heat the oil in a large pan then add your onions and cook them for about 5 minutes, or until they've softened.
Next add in the ginger and garlic and cook for about 1 minute; add in your garam masala and curry powder and cook for a couple more minutes.
Add the chicken breast and cook for about 10 minutes, and then add 100ml of water (as it'll be starting to stick a little) then allow to cook until the water evaporates.
Add in the tomato soup, then bring to the boil and leave to simmer on a low to medium heat for 20 minutes or until the sauce has thickened and the chicken is fully cooked through.
Remove from the heat, drizzle over the yoghurt, top with coriander and then it's ready to serve.
CHICKEN BURRITO BOWL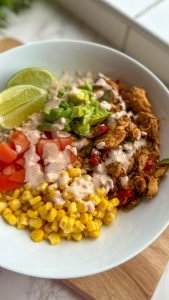 📍 Serves 2
📍 496 Calories & 49.1g Protein
 250g Chicken Breast, diced
20g Fajita Seasoning
 2 Peppers, finely sliced
250g White Rice, cooked
80g Sweetcorn, drained
Handful of Cherry Tomatoes, diced
40g Avocado
DRESSING: 4tbsp Greek Yoghurt, juice of 1/2 a lime, 1tsp Fajita Seasoning, 2tbsp juice from a jar of Jalapeños.
Method:
Start by making your dressing by simply mixing all of the dressing ingredients along with a small pinch of salt together in a small bowl, then set aside.
Add your chicken to a hot pan sprayed with some cooking spray, then fry the chicken until almost cooked through; add in your peppers and cook for about 6 more minutes or until slightly softened.
Add your 20g of fajita seasoning to the chicken and peppers along with a splash of water, then allow to cook for about 5 more minutes or until the chicken is fully cooked through.
Once the chicken is cooked assemble the bowls with the chicken and peppers, rice, tomatoes, avocado, sweetcorn and a good drizzle of dressing!
HIDDEN ROASTED VEGETABLE PASTA
📍Serves 2
📍 515 Calories per serving
2 Peppers, each cut into 4 chunks
1 large Tomato, quartered
1 Courgette, thickly sliced
1 small Onion, thickly sliced
 1 tbsp Mixed Italian Herbs
1 tbsp Olive Oil
1 whole Head of Garlic, cut in half
1 Vegetable Stock Cube
200g Cooked Pasta of choice
Method:
Add your peppers, tomato, courgette, onion & garlic to an oven proof dish; drizzle over your olive oil, mixed herbs and some salt and pepper, then use your hands to coat the vegetables in the oil and herbs.
Roast the vegetables for 40 to 45 minutes at 180c, until soft and almost charred at the edges; remove from the oven and then transfer to a blender, squeezing in the garlic cloves.
Add your stock cube and 100ml of water to your blender then blitz until you have a blended sauce; adjust with a little more water if needed and season to taste.
Then simply mix with your cooked pasta, divide between two bowls, top with Parmesan if you'd like and then serve.
Enjoy these recipes? Check out some more din-spiration below!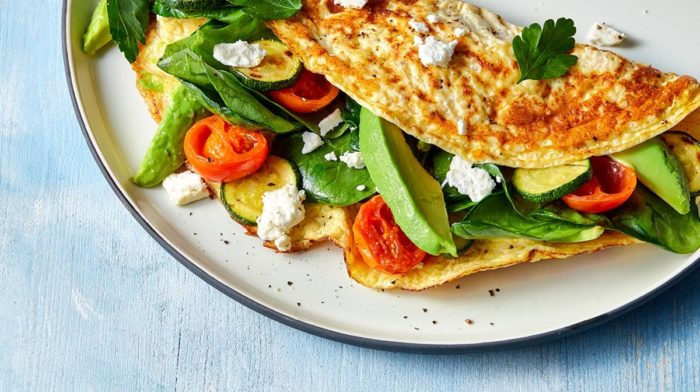 This delicious vegetable omelette is the perfect protein-packed brekkie, lunch or dinner for any day of the week. Plus, it is super simple to make!
How does the exante diet work?
Our meal replacement products contain 27 vitamins & minerals 33% NRV (Nutrient Reference Value) and are specifically designed to support you on a weight management or weight loss* journey.   Keep reading for our recommendations on how to use the products depending on your goal. Remember, this is just a guide, so if you've found another method to work for you, that's totally fine too. 
For weight loss:
We recommend swapping 2-3 meals per day with exante meal replacements, followed by 400-600kcal healthy meals and snacks**. However, if you are unsure, we always recommend customers consult with a GP before embarking on a meal replacement diet.