So, you've embarked on the exante diet but wondering what to make for your low calorie meals? Don't worry, we've got you! 'Weighlesswith_Jess' is here with her delicious meal ideas for you to cook and enjoy on-plan. Ranging between 300-600 calories, read on for her 'din-spiration' without feeling the need to compromise on flavour. If it's fuss-free recipes you're after, look no further. Jess has created some light and delicate lunch ideas, as well as some tasty dinner ideas that will keep you in your calorie deficit for weight loss.  We're talking indulgent cheese pulls, home-comfort cooking and one-pan wonders…
Caprese Chicken Salad, 390 Calories
Serves one 
390 calories & 48.5g Protein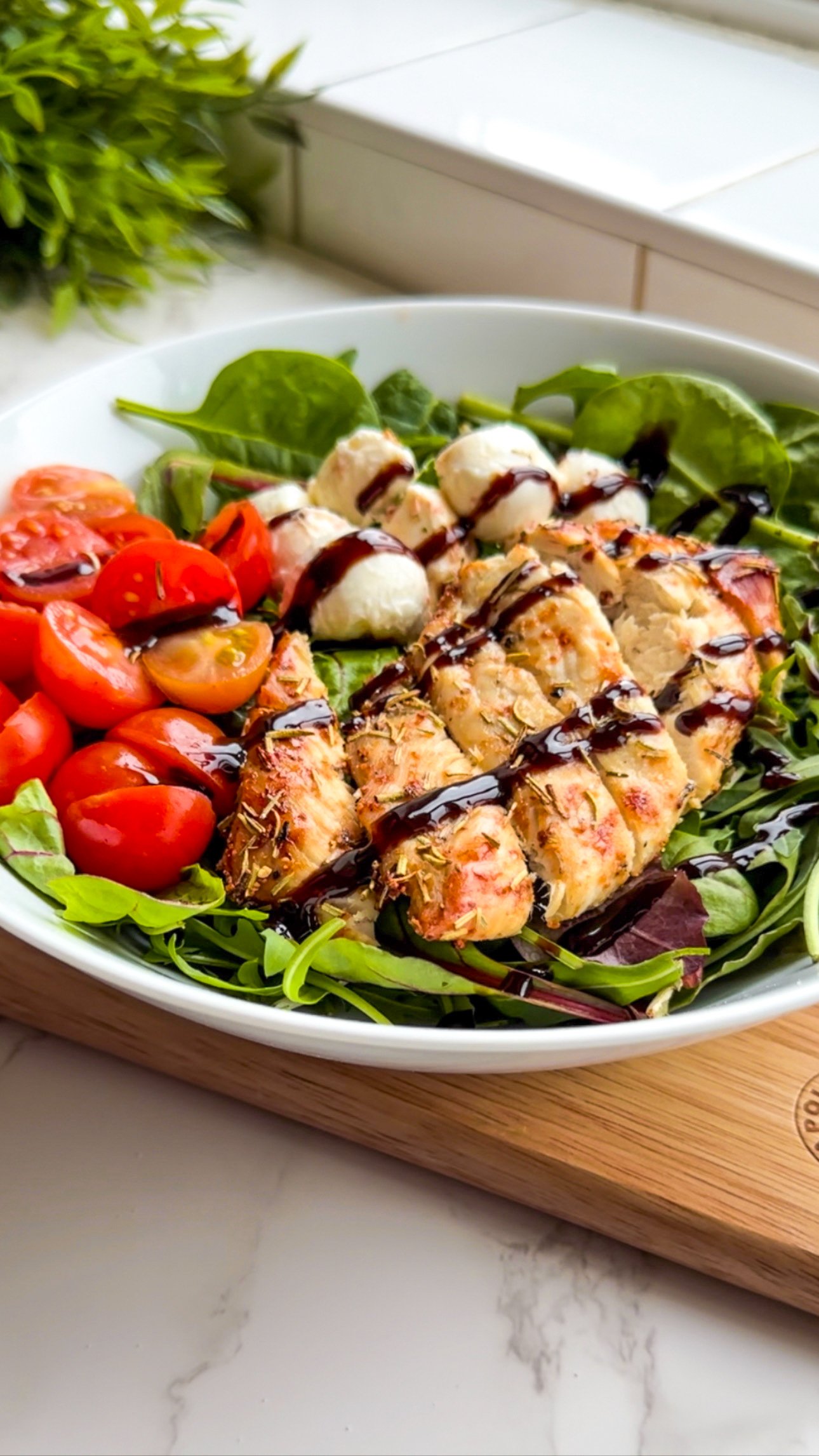 1 Chicken Breast (circa 150g)

 

1tsp Olive Oil

 

1/2tbsp dried Rosemary (oregano, parsley etc would work brilliantly here too)

 

1tsp Garlic granules

 

30g Baby Mozzarella balls

 

Handful of Cherry Tomatoes, halved

 

Mixed Salad Leaves

 

1tbsp Balsamic Glaze

 
 Method: 
Start by marinating your chicken breast in your olive oil, dried rosemary, garlic & some salt and pepper; make sure the chicken is well coated then either air fry or bake at 180c for 15 to 20 minutes, or until full cooked through. You can also pan fry if easier. 

 

Then simply assemble your salad: start with a base of mixed leaves then top with your tomatoes, mozzarella, chicken & your drizzle of balsamic glaze. 

 
Watch the video…
One pan Chicken & Chorizo Paella, 530 Calories
Serves 4 
530 Calories & 40g Protein per serving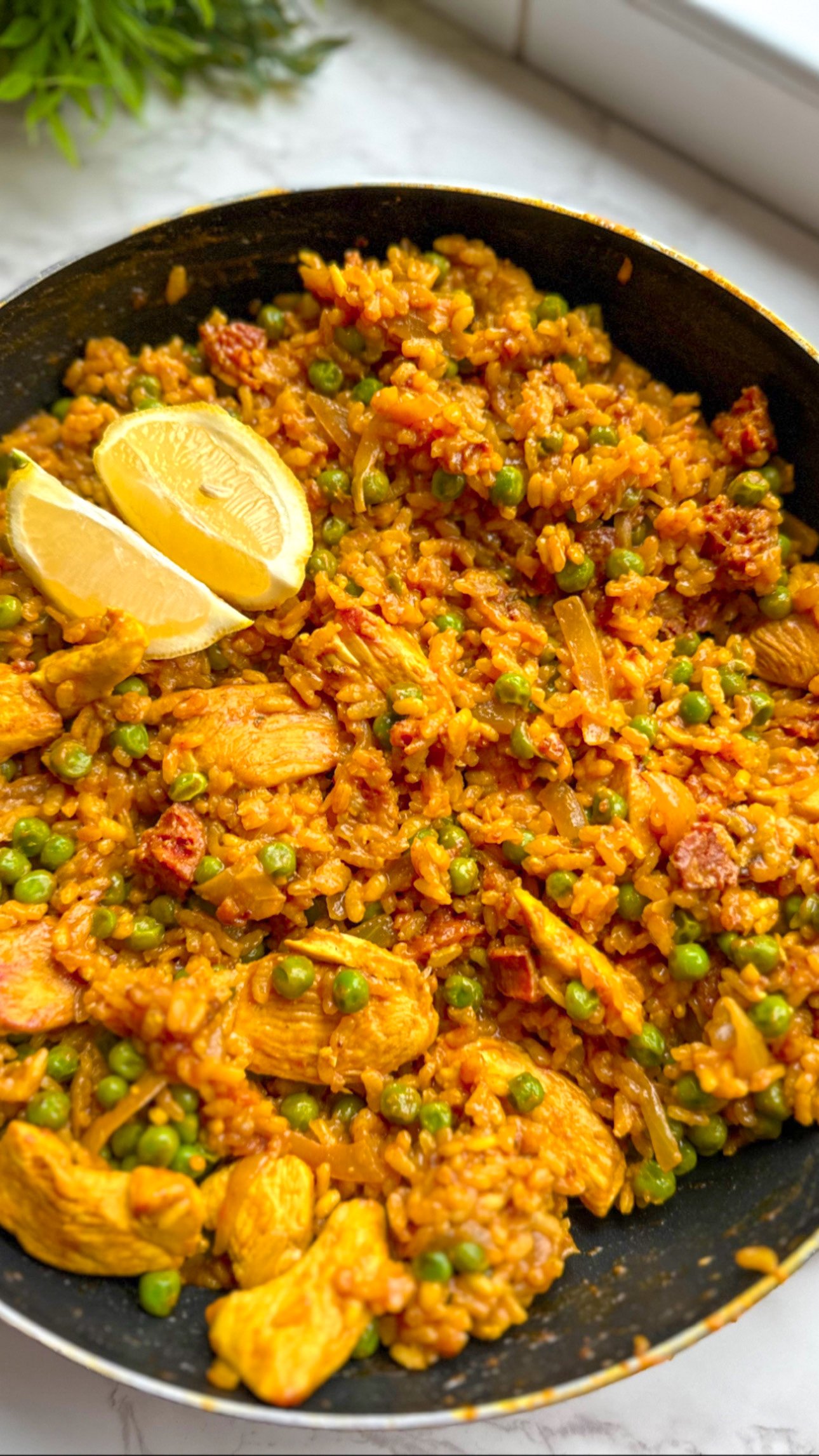 1.2L of hot Chicken Stock

 

 1 Onion, sliced

 

 100 g Chorizo, sliced or roughly diced

 

400g Chicken Breast, sliced

 

3tsp Smoked Paprika

 

2tsp Turmeric

 

2tsp Garlic Powder (or can use fresh garlic) 

 

300g Paella Rice

 

100g frozen Peas

 

2 Lemons cut into quarters 

 
 Method: 
Firstly add your turmeric to your hot chicken stock, stir thoroughly and and set aside.

 

Add your chorizo to a deep pan and allow to cook for a few minutes over a medium heat, or until crispy at the edges and it has released all of the delicious oils.

 

Next add in your sliced onions and allow to cook for a few more minutes until they have softened. 

 

Add in your chicken breast pieces and fry over a medium-high heat for 2 minutes; turn down the heat, then add the garlic powder and paprika before allowing to cook for a few more minutes.

 

Add your paella rice, mix into all of the chicken flavours then carefully pour over your chicken stock, plus some salt and pepper. Bring to the boil, then turn down and simmer for 20 minutes, with the lid off.

 

Add the frozen peas and cook for a further 5 minutes. By this time all the stock should have all been absorbed, but if the rice isn't quite tender just add a little water and allow to cook for a few more minutes.  

 
Finish by adding the juice of two of the quarters of lemon, stir well then serve with the remaining two lemon wedges and some fresh parsley if you like. 
Watch the video…
One pan Meatball Pasta, 430 Calories
Serves 4  
430 Calories & 30g Protein per serving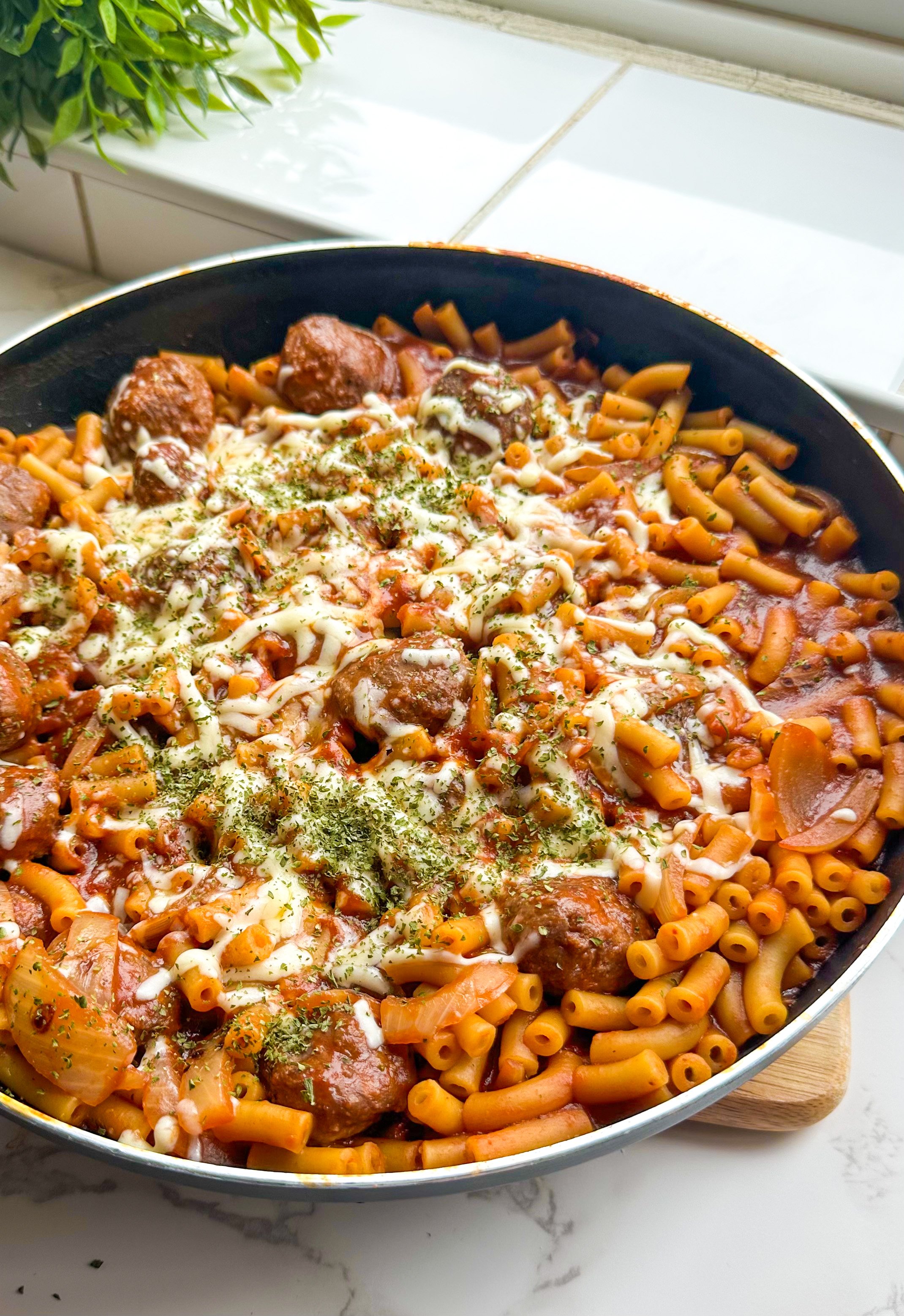 You will need:
12 lean Beef Meatballs (you can make your own or use pre made) – cooked, I bake mine in the oven for 20 minutes. 

 

1 Onion, sliced

 

500g Passata

 

500ml Beef Stock

 

250g Macaroni, dry weight

 

1tbsp Garlic Powder

 

2tbsp Mixed Italian Herbs

 

1tsp Chilli flakes (optional)

 

40g grated Mozzarella

 
  Method:
Start by spraying a pan well with cooking spray and then add in your onions; add a pinch of salt and cook over a medium to high heat for about 10 minutes or until soft and slightly brown at the edges.

 

Next add in yours garlic powder, Italian herbs & chilli flakes if you're using them, then cook out for another few minutes.

 

Turn the heat down to medium then pour in your Passata and beef stock, add a good pinch of salt and pepper then pour in your dry macaroni.

 

Stir the pasta into the sauce, and allow to bubble for 15 minutes without the lid on, stirring occasionally, until the pasta is tender; it should've absorbed most of the liquid by this point but if it's still not fully done to your liking, just add a little more water and wait a few more minutes.

 

Once the pasta is cooked stir through your cooked meatballs, then top with your cheese and pop a lid on; allow to cook for a few more minutes then serve! 

 
Watch the video…
'Big Mac' Burger Bowl Salad, 310 calories
310 calories
42.3g Protein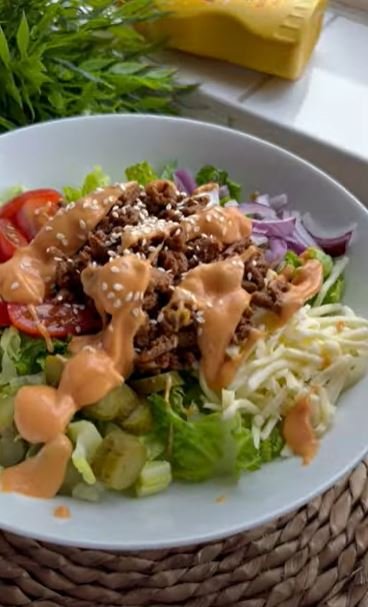 You will need:
175g 5% Beef Mince
2tbsp Ketchup
1tbsp Yellow Mustard
15g reduced fat Mozzarella
10g Gherkins, sliced (optional)
 Burger Sauce (any is fine, but Jess made hers with 1/2tbsp ketchup, 1tbsp lightest mayo, 1/2tsp yellow mustard and some brine from the gherkins)
 Cherry Tomatoes, lettuce, red onion & sesame seeds, to serve.
1. Start by adding your mince to a hot pan along with some salt and pepper and allow to cook for about 5 minutes or until browned.
2. Once your mince is cooked, add in your ketchup & mustard, along with a little dip of water and allow to cook for another minute until saucy and the mince is fully cooked through.
3. Then all you need to do is assemble – add your lettuce, tomatoes, red onions, and cheese to a bowl before topping with your mince mix, burger sauce and some sesame seeds.
Watch the video…
Cheesy One-Pan Veggie Pasta, 539 Calories
Craving cheesy pasta but don't want to fall off-plan? Just look at that #cheesepull…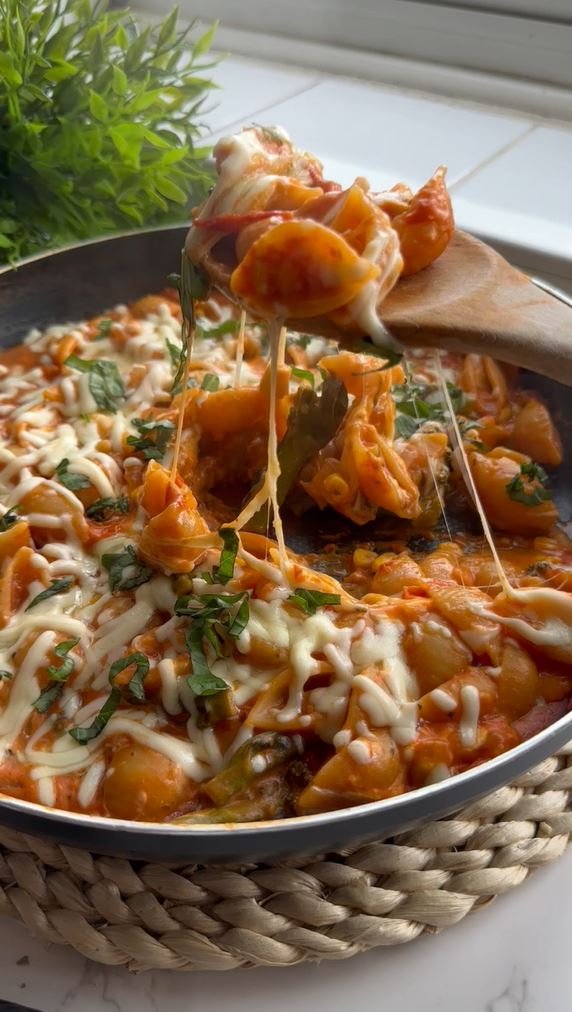 Recipe Serves 2 and is 539 Calories per portion.
You will need:
1 large Onion, diced
1tbsp Garlic Purée (or a few cloves of fresh)
1/2tsp Chilli Flakes
1tbsp dried Oregano
400g of Mixed Vegetables (I used Tenderstem Broccoli, Cherry Tomatoes & Sweetcorn but any veg would work; peppers, courgettes or mushrooms are great too)
180g Pasta Shells (dry weight)
200g Passata
600ml Vegetable Stock
50g lightest Cream Cheese
 60g Mozzarella, grated
Method:
Spray a pan with cooking spray. Add in your onion; allow to cook over a medium heat for about 5 minutes until softened, then add in your garlic and cook for another couple of minutes.
Add chilli flakes, oregano, salt and pepper & fry for a minute or two to cook out the spices.
Next add in your vegetables of choice and give them a good mix through so they're coated in the onions and spices.
Add in your pasta, stir to mix with the vegetables then pour over your stock and passata; mix well and bring to a boil.
Reduce the heat to medium and allow the pasta to cook for about 15 minutes or until it is tender; stir frequently so it doesn't stick to the bottom and add a little extra water if needed.
Once the pasta is tender add in your cream cheese, stir well before sprinkling over your mozzarella; top with a lid and allow the cheese to melt, then serve up and enjoy!
Watch the video…
Cheesy Enchilada Chilli, 359 Calories
Did someone say weekend Mexican night?
Serves 4- 359 Calories & 33.8g Protein per serving (without toppings)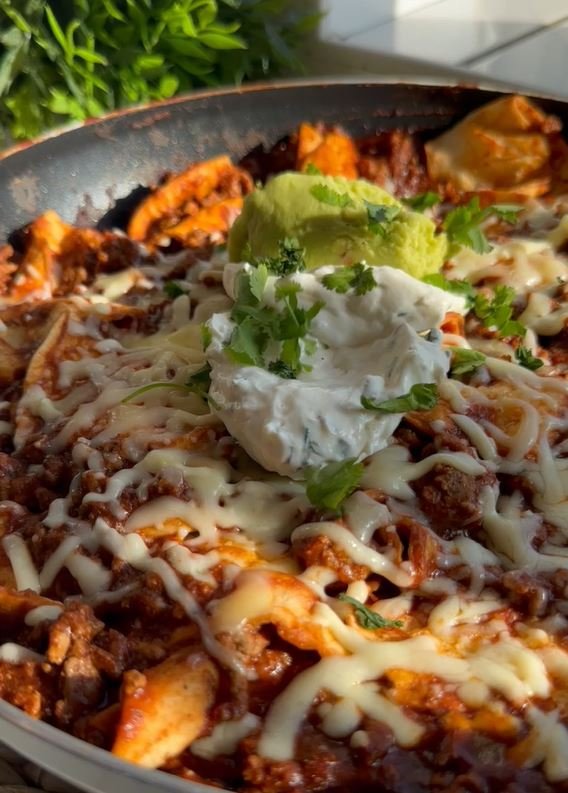 500g 5% Fat Beef Mince
25g Fajita Seasoning
4 Small (not Mini) Tortillas, cut into thick slices
500g Passata
60g Mozzarella, grated
Guacamole, reduced fat Sour Cream & Coriander, to serve (optional but HIGHLY recommended)
Firstly spray a pan well with cooking spray and add in your mince; fry for a couple of minutes over a medium to high heat until it crisps a little at the edges and it's fully browned.
Next add in your fajita seasoning, fry for a few minutes to cook out the spices, then add in your passata along with about 100ml of water; stir well, then the heat down a little and bring to a simmer.
Once it's been simmering for a few minutes add in your tortilla strips and use you spoon to submerge them in the sauce, and allow this to cook for another couple of minutes.
Sprinkle over your mozzarella, pop a lid on and allow to bubble over a low heat until the cheese has melted.
Add on your toppings if you're having it now, then grab a bowl and a spoon and dive straight in.
Watch the video…
We hope you enjoy these delicious recipes to help complement your weight loss plan. If you're after some more low-cal meal ideas, look no further…
How does the exante diet work?
Our meal replacement products contain 27 vitamins & minerals 33% NRV (Nutrient Reference Value) and are specifically designed to support you on a weight management or weight loss* journey.   Keep reading for our recommendations on how to use the products depending on your goal. Remember, this is just a guide, so if you've found another method to work for you, that's totally fine too.