Want to give your body a detox with superfoods in the simplest way? Include our NEW Superfood Shakes in your everyday diet to give your body all the nutrients it needs, all with an amazing taste. Available in Banana and Cacao, Superfood Shakes can be enjoyed as smoothies, shakes, smoothie bowls and more. Want to get a taste? Read on to find more… 
What are superfoods?
It's a buzzword we're all too familiar with but what do we actually mean when we call foods super? Ultimately, there's no specific characteristics that define certain foods as 'super', but superfoods are generally known as "a nutrient-rich food considered to be especially beneficial for health and well-being."- that just means it's pretty good for you! (1).  
Superfoods come in all shapes and sizes, including bananas, cacao, sweet potato, flaxseed, buckwheat and more. The tricky thing is that it can be hard to find all these different superfoods on your weekly shop at a good price!
Thankfully, we've now got our uber yummy and totally healthy Superfood Shakes- the easiest way to detox* your body, getting healthier one shake or smoothie at a time!  
Want to find out how a superfood detox can benefit your body? Find out in our blog below 
Ready to meet the flavours? Let's check them out…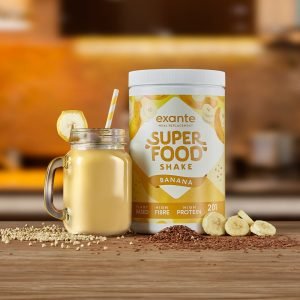 Fruity, fresh and full of fibre, the Banana Superfood Shake is the perfect shake for you if you're looking to add a hint of sunshine to your day. With every sip of this naturally sweetened shake, experience creamy yet fruity tangs of real banana, sweet potato and buckwheat. Completed with pea protein and our new multiblend of 27 vitamins & minerals, this plant-based shake is here to help you get your superfoods detox the tasty way!