What's so super about superfoods?
Superfood. It's a buzzword we're getting used to hearing almost anywhere, but what does it really mean? We're constantly told to include more superfoods in our diet, so we're sorting fact from fiction and finding out just why they're so important.  
But guess what? That's not all you'll find in today's blog… 
Stay tuned to the end of the blog for an exclusive sneak preview of our latest exante product…  
What are superfoods?
Although we label so many 'healthy' foods as superfoods, there isn't really any explicit rules to what a food needs to be to be seen as 'super'. But if you're looking for something a little clearer, the Oxford English Dictionary (OED) defines a superfood as: 
"a nutrient-rich food considered to be especially beneficial for health and well-being." (1) 
Put simply, superfoods are the powerhouses of the food world. High in vitamins, minerals, antioxidants and healthy fats, superfoods can help your body not only survive but thrive too. Superfoods help to fuel your body in the healthiest way, making it much easier to fight disease and other deficiencies (2). 
What are the best superfoods?
There isn't such a thing as superior superfoods, they all work in their own ways to help benefit the body, but some are definitely easier to get a hold of than others.  
Since there's no specific way to define certain foods as 'super', it can be tricky to find out which ones to include in your diet. But don't worry, we've got you covered with our list of exante's Favourite Superfoods, let's check it out:  
Banana

 

Cacao

 

Apple fibre

 

Pea protein

 

Avocado

 

Blueberries

 

Chia seeds

 

Coconut

 

Flaxseed

 

Buckwheat

 

Acerola cherry

 

Green Tea

 

Leafy greens

 

Yoghurt

   
What are the benefits of superfoods?
Aside from being super healthy, superfoods have been said to have plenty more specific health benefits; this is because they're full of vitamins, minerals and antioxidants. Some of the amazing health benefits you can expect include:  
Improved heart health

 

Promotes weight loss

 

Reducing the effects of ageing

 

Boosted energy levels

 
Better yet, some of the antioxidants inside superfoods have been linked to cancer prevention. The fibre found in many superfoods can help with digestive problems which, in turn, can even help with diabetes. Superfoods are also generally seen to have the ability to protect your organs from toxins by lowering your bad cholesterol, regulating your metabolism, and even reducing inflammation- how great is that (3)!  
How can I introduce superfoods into my diet?
It's simple to introduce more superfoods into your diet, all you need to do is up your intake of them using smoothies, fruit bowls and more. Sadly, it can be difficult to consume a wide variety of superfoods since some are a little harder to access than others. We all know where to find bananas and avocados but something like buckwheat can be a little trickier to find, that's why consuming powdered forms of superfoods is probably the easiest way to up your intake… 
So, say hello to our NEW exante Superfood Shakes, launching 22nd February 2022!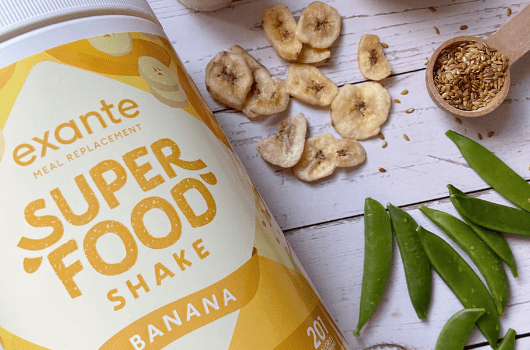 To give you a little more information about our NEW launch, we're chatting all things Superfood Shakes with our food technologist, Jas! 
For anyone who isn't sure what we mean by them, could you explain a little more about what a Superfood Shake is?  
"Superfood Shakes are such an exciting step for exante. They're suitable for anyone on a plant-based diet or people wanting to make some healthier choices because they're made with some fantastic natural ingredients, including vitamin C from acerola cherries." 
What are the benefits of exante's Superfood Shakes?  
"Our Superfood Shakes are great for anyone looking for a clean label shake. They're completely plant-based, made using pea protein and superfoods to help support weight loss and healthy living." 
How do you use Superfood Shakes? 
"Our Superfood Shakes can be used just the same as our regular meal replacement shakes. All you need to do is mix a serving of the powder with 200-300ml of cold water, shake and leave to settle. I always have mine with a little bit of ice so it's extra cold or turn it into a tasty smoothie bowl for a healthy breakfast!" 
Available in indulgent Cacao and yummy Banana flavours, find out which one you should get your hands on…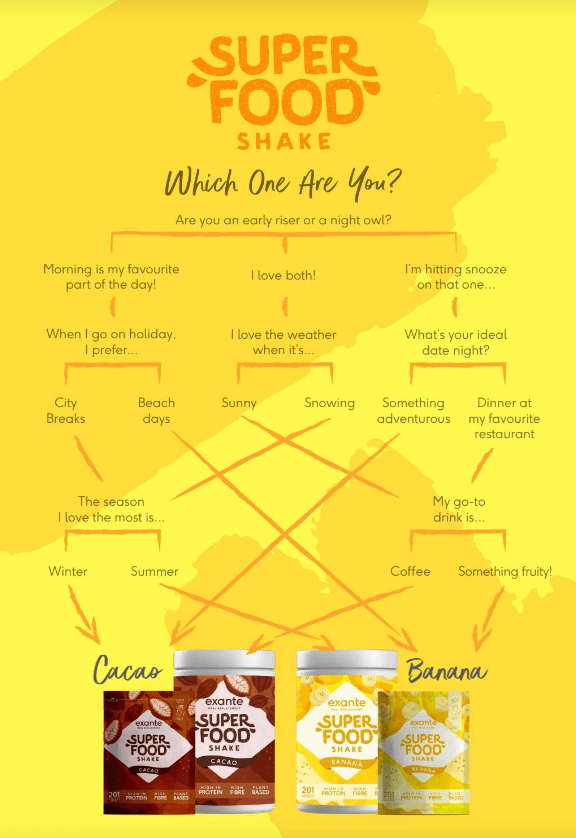 We hope you're just as excited as we are to get your hands on our NEW Superfood Shakes! Remember to follow us on Instagram, Facebook and TikTok to get exclusive insider updates just in time for the launch.