To celebrate diabetes week, we are sharing some inspiring stories from the people of exante!
Read about our inspiring customers, who have managed to take control of their type 2 diabetes using exante:  
Meet Justin: Who has lost 7 stone and took control of his type 2 diabetes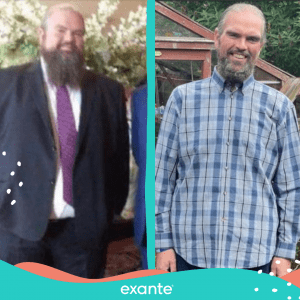 Justin has always been overweight since childhood, until he was finally in the right frame of mind to begin his Momenta and exante journey to take control of his T2. He was desperate to lose weight after years of being told he is a risk medically.
Phase 1 – Justin took a regimented approach to the exante diet plan by following the guidance of four exante products spaced out regularly at set times every day. 

 

Phase 2 – Approaching Phase 2 and knowing that he would have the freedom to eat normal food, Justin was naturally concerned about how he would manage to keep his weight off, but managed to through calorie control.

Phase 3 – At the beginning of Phase 3 Justin was a further 19kg lighter, now 100kg. So far, he has lost 34% of his starting weight

.

 
Justin's positive and determined frame of mind helped him succeed on the programme. He used the time to improve his health and lifestyle and…it worked!