Garlic is a nutritional powerhouse, packed with so many benefits we don't even realise how much of a SUPERFOOD it really is – and how easy it is to include in our everyday diet. 
This spice (yes, spice) is a member of the allium family, along with onions, leeks, and scallions. There are over 300 varieties and generally, the stronger the taste, the higher the health benefits within the garlic bulb.
We take a look at the key health benefits of garlic and how useful it is for weight loss. Why not try our low calorie, Monday 'pick me up' Garlic Soup recipe too!
Garlic | Key health benefits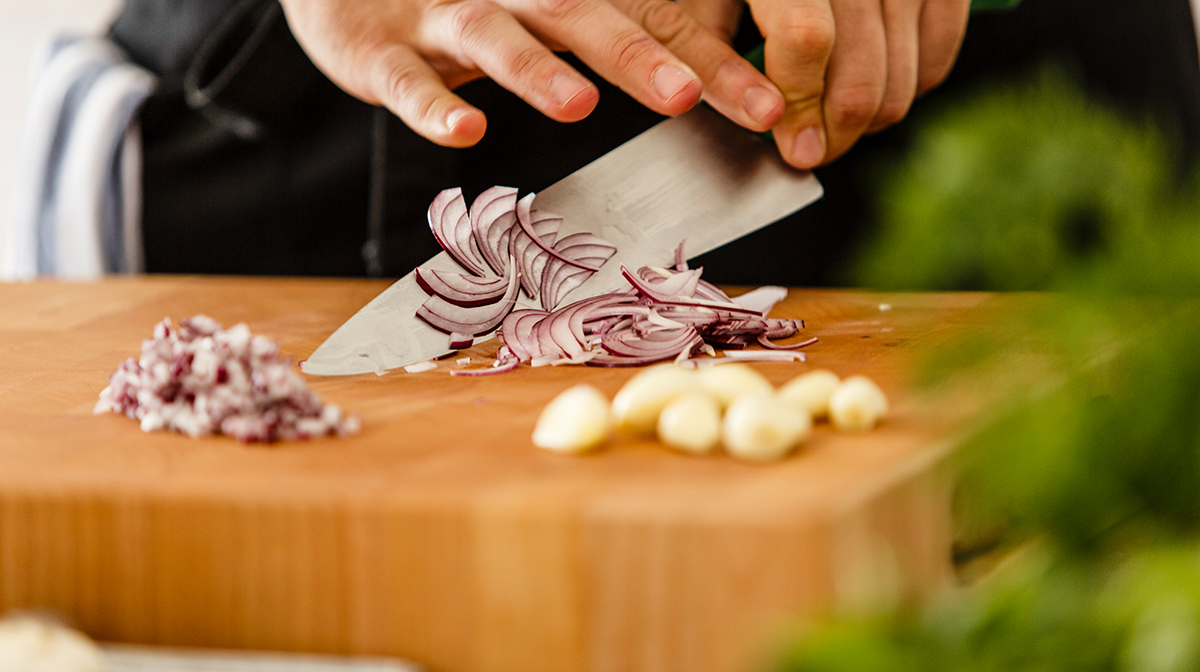 Garlic contains powerful antioxidants. It's been shown to boost immunity, relax blood vessels, maintain blood glucose, reduce blood pressure, inflammation, and even help premature ageing and disease.
A 28g serving of garlic contains:
Manganese: 23% of the RDA.
Vitamin B6: 17% of the RDA.
Vitamin C: 15% of the RDA.
Selenium: 6% of the RDA.
Fibre: 0.6 gram.
Decent amount of Calcium, Copper, Potassium, Phosphorus, Iron and Vitamin B1.
Garlic also contains trace amounts of various other nutrients. In fact, it contains a little bit of almost everything we need.
Can it help with weight loss?
This is up for debate. Studies show that garlic CAN have a small impact on weight loss when added to meals. A 28g serving comes in at a small 42 calories, 1.8g of protein and 9g of carbs.
How it really helps:
Detoxes the body
Boosts your metabolism
It's an effective diuretic
Eliminates fat from the cells
Regulates blood sugar levels – fluctuations that can turn on fat-storing hormones.
How to select, cook and store
SELECT: When shopping for garlic, buy unblemished bulbs with dry skins and firm cloves. Bulbs should be plump and compact with taut, unbroken skin. Avoid those with damp or soft spots.
COOK: To get the most bang for your bulb you need to crush garlic. This releases enzymes which contain health compounds trapped in the cells of the plant. After crushing garlic – wait 10 minutes before cooking. If cooked before, you'll destroy these enzymes and lose the health benefits.
STORE: Store your garlic at room temperature in a cool, dry place (not in the fridge). Several studies have shown that this helps retain about 70% of its beneficial natural compounds. Unbroken bulbs should last several months; use individual cloves within 10 days.
Low-Calorie 'Pick Me Up' Garlic Soup Recipe
Famous in Austria for its super health benefits, what could be better for lunch than our low-calorie Garlic Soup? Whilst other versions use cream, we've used low-fat Greek yoghurt, paired with just the right balance of garlic and onions.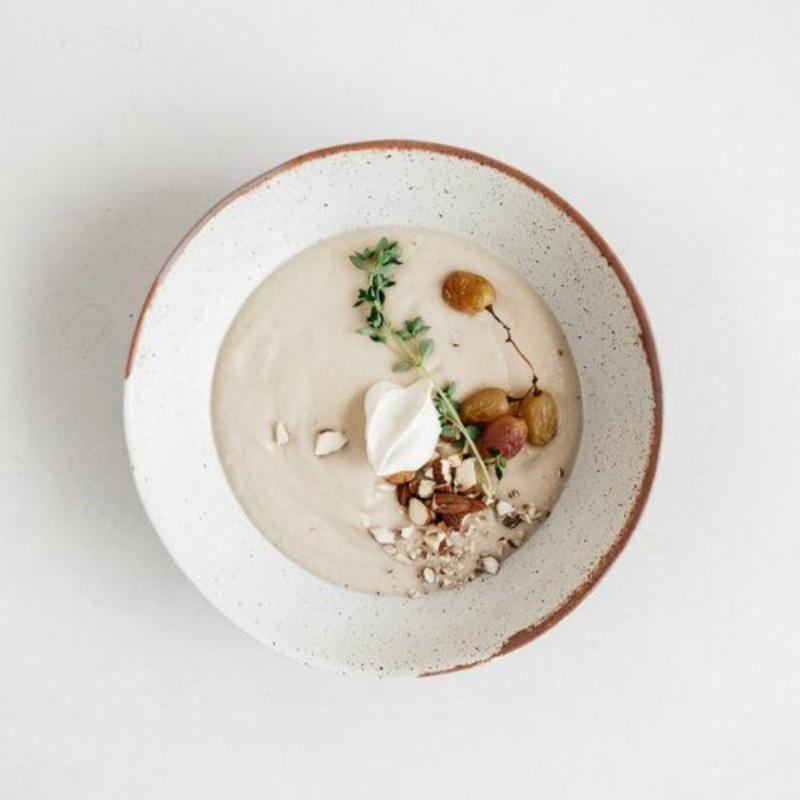 Ingredients
26

garlic cloves (unpeeled)

2

onions, sliced into half rings

2 tsp

fresh thyme, chopped

16

garlic cloves, peeled and whole

4 cups

vegetable broth or chicken broth

1/2 cup

nonfat plain Greek yoghurt
Method
Preheat oven to 180 degrees C (Gas mark 4).
Place 26 unpeeled garlic cloves on a baking tray and add 1 tsp of olive oil and sprinkle with a pinch of salt and pepper. Toss to coat. Cover the tray with foil and bake for 45 minutes until brown and roasted. Once cool, push or peel them out of the skin and place on the side with the raw garlic.
In a large soup pan, add 1 tsp olive oil over medium heat and add the onions and cooking spray if needed. Saute for about 7 minutes until they begin to become translucent. Add the thyme, salt, and pepper and saute for an additional 5-7 minutes until the thyme becomes very fragrant. Add the roasted and raw garlic and cook for 3- more minutes. Be careful not to burn it.
Add 4 cups of chicken or vegetable broth and simmer for 25 minutes until the garlic is completely tender. Let cool until safe enough to add to a blender and puree.
Return to the stove and stir in the milk. Serve with a little parmesan cheese.