Our heart health is important all year round, but February is the month where we pay special attention and raise awareness on all things heart health. 
This post outlines 9 lifestyle changes we can make to help protect our heart and keep it healthy. 
A diet that is healthy for the heart can, not only help us maintain a healthy body weight, but also lower our blood pressure, reduce our levels of cholesterol and decrease our risk of developing type 2 diabetes [1]. 
So, what does a heart–friendly lifestyle look like? 
Maintain a healthy weight  
Managing your weight can reduce your risk of heart disease by preventing weight related conditions like high cholesterol, high blood pressure and type 2 diabetes [2]. To check if you need to lose weight you can use a BMI calculator to check your BMI. Or you can measure your waist – It's generally recommended that a desirable waist size for men = less than 94cm, and for women = less than 80cm. 
Having a lot of excess fat around your middle can put you at higher risk of coronary heart disease, type 2 diabetes and some cancers. That's because people who are a more apple shape, tend to have more hidden fat, known as visceral fat, that covers the organs, like the heart and liver [3]. 
To help control your weight, try following one of our exante diet plans – we've got different ones to suit difference lifestyles. We've even got a diet plan that could help control your type 2 diabetes!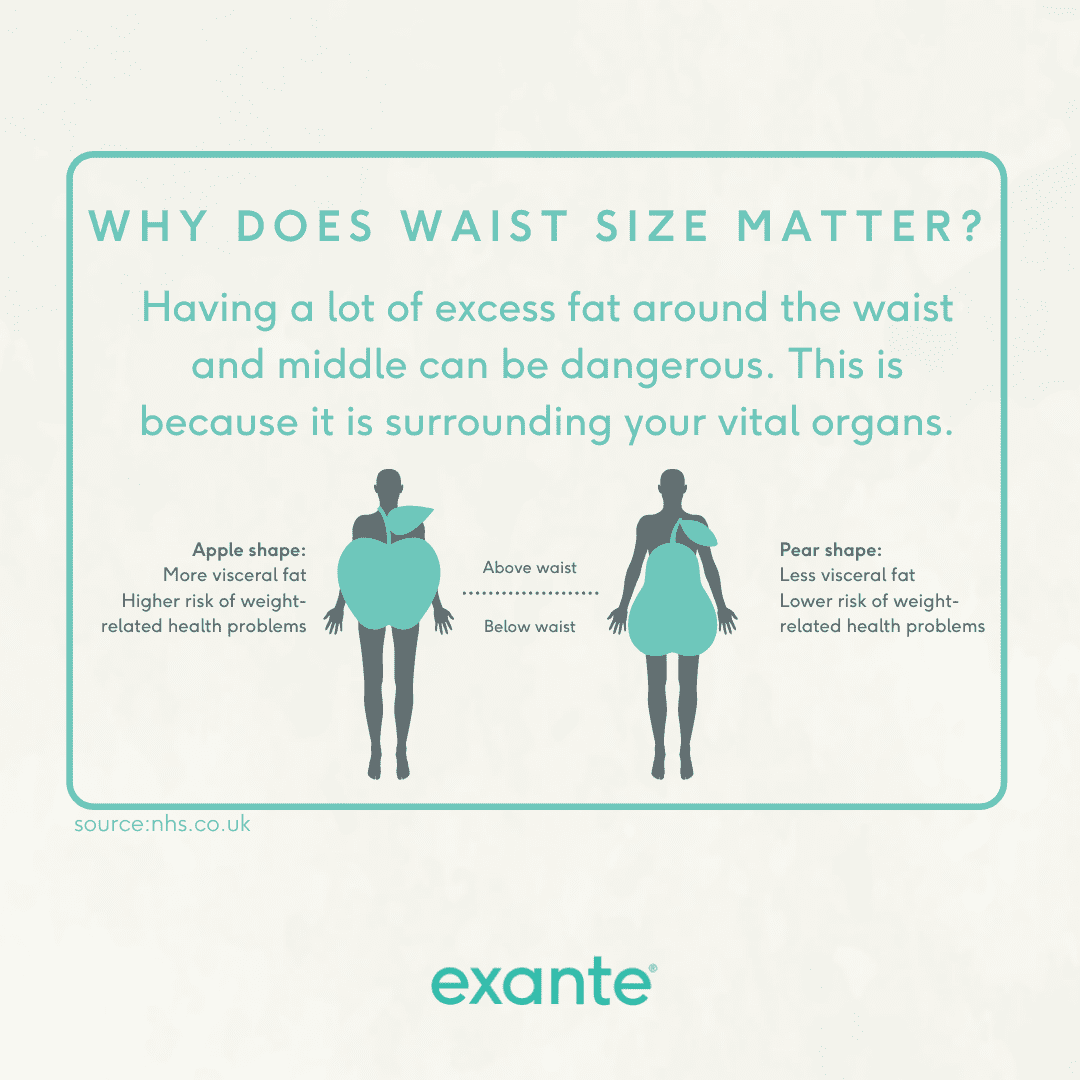 Get more fibre 
Research suggests that high fibre intake has beneficial impacts on cardio vascular disease risk factors [4]. In the UK, the recommended daily intake of fibre is 30g – most adults in the UK consume much less [5]. 
Well, we've got your back. All of our exante products are not only mouth–wateringly indulgent, they're also high in fibre – bonus, right!? 
If you're following one of our partial meal replacement plans, like our exante 1200 diet plan, or 5:2 diet plan, remember to pack your prepared meals with a variety of veggies and whole grains to ensure your body is getting all the fibre it needs.