With summer finally here and some decent weather at last, we've no doubt that half of the UK are planning to rustle up a good BBQ this weekend. However, after a few white wines or cold beers, which have already upped your calorie intake (sorry guys!), it's often not long before you're face down in ALL the carbs. So, we've put together our top tips and healthy BBQ ideas so that you can enjoy your favourite foods this Summer AND stay on track!
Don't go crazy on the carbs
OK, so sizzling and sausages and delicious burgers are pretty great when it comes to BBQs. But the creamy pasta salads, potato salads and sides that come with it are all too tempting. However, the hidden fat and sugars in these can be what sends our diet flying out the window! The average store-bought potato salad can pack up to 40g fat and 50g of carbs per tub! Where we'd also like to think we'd only have one potato and go easy on the mayo, let's be honest we'll be spooning the stuff straight out the tub after a couple of proseccos. Our advice? Don't buy it! Make a healthy home-made sweet-potato salad or better still, a leafy green salad to cut calories, fat and carbs!
Fill up on the good stuff
Before you head straight for the soft, white baguette that's staring at you from across the garden, fill your plate with as much healthy food as possible. Partly so there's physically no room for any bread, but mostly because you will likely find you're just hungry. Not hungry for bread or starchy carbs, but just generally hungry. Once you've settled into a plate of delicious vegetables and salads (not the pasta kind!), you'll be pleasantly satisfied and far less likely to head for the bread basket.
Portion Control
When you're either hosting or attending a BBQ, (healthy or not), it can be very easy to overeat. While you might have good intentions to eat lower fat, lower carb versions of things, you tend to eat more than you need. Another great thing about filling up on veggies is that you are less likely to have huge portions of everything else. We're not saying have one sausage and call it a day, but we are saying maybe have one sausage and one burger and really think about whether you need the bun. Even better, opt for leaner proteins such as chicken and pork and if there's an option of fish – definitely take it! (providing you like fish on a BBQ…)
Take a read of our guide to portion control for more help on accurate portion sizes.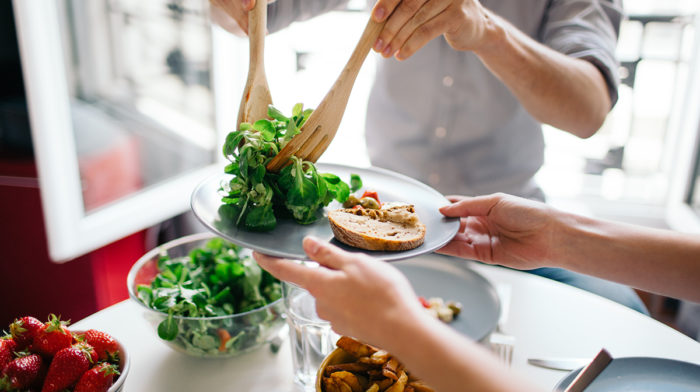 Do you suffer from portion distortion? Follow our handy guide.
Substitute for healthy alternatives
Similar to opting for lean protein, try and find healthy alternatives to your BBQ favourites. If you are a lover of pasta salads and all things that come with a BBQ then be sure to make these yourself. You can use wholewheat pastas and extra light dressings and mayo and pack them with chopped tomatoes and spring onion to make your favourite dishes slightly healthier. Always choose brown bread over white and don't get too carried away with the condiments and sauces (they're packed with sugar!). If you're going to a BBQ and worried they won't have healthy options there, make something and take it with you! It's polite to arrive with a contribution and then you know you've definitely got a healthy option to hand.
Don't drink your calories (well, not all of them)
We'd love to tell you to simply not drink at all when it comes to your Summer BBQs and if you have this willpower, every credit to you! In an ideal world, you'd skip the wine, the bread, the carbs, the burgers and have water, chicken and lettuce (and if you are a strict Total Solution follower, you may well be doing just that!). But if you're trying to enjoy a treat meal or are on Food Week, Flexi Solution or a healthy-eating plan, you may want a wine or two. If you do drink, just be mindful of how much you're drinking and of course, what you're drinking. Diet mixers with spirits or prosecco are the lowest in calories.
Healthy BBQ Chicken Skewers Recipe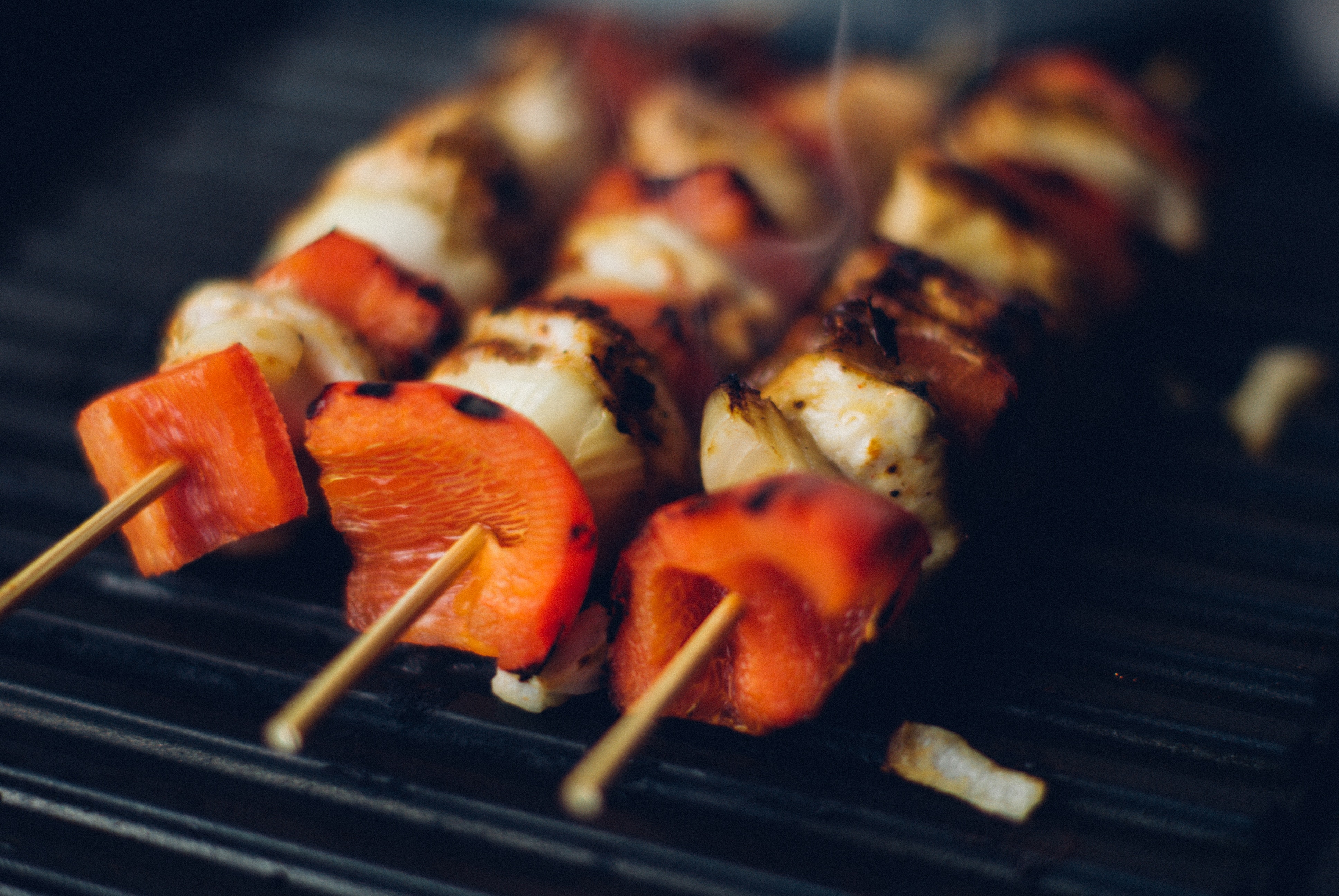 If you need a little inspo for something delicious and guilt-free to rustle up for a healthy BBQ, try our simple chicken skewers recipe!
Ingredients:
2-3 skinless, boneless chicken breasts
1 red pepper, chopped
1 yellow pepper, chopped
1 red onion, chopped into chunks
3 tablespoons honey
3 tablespoons soy sauce
1 clove of garlic, crushed
Kebab Skewers
Method:
Mix the soy and honey together in a bowl.
Cut the chicken into chunks and mix together in the sauce.
Add the chopped peppers and garlic and season with salt and pepper.
Mix everything together then take pieces out individually and add them to skewers.
Cook on the BBQ for 15 minutes, or until cooked through – turning occasionally.