In need of some healthy meal inspo? We've enlisted the help of Dietitian and Chef, Kwayera Simpson to cook up some fresh, low calorie and high protein meals to complement your weight loss plans. First up is the delicious Salt n' pepper chicken with new potatoes and green beans. Coming in at only 347 calories per portion, this recipe is perfect for those following the 1200, 5:2 or Maintenance plan… here's how!
Ready in 90 minutes 
Serves 1  person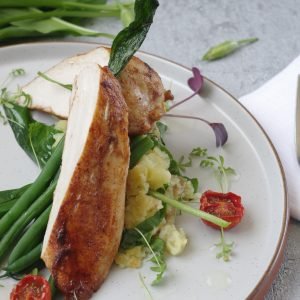 Ingredients
200g chicken breast

1 Lemon

 

150g new potatoes (3-4) 

 

4 wild garlic 

leaves

 or 1 clove of garlic

 

25g green beans 

 

Salt and pepper

 

5g olive spread/margarine 

 

1kcal spray

 

Cress for garnish – optional

 
Method
Preheat the oven to gas mark 

4, 180

°C.

Place new Potatoes on to boil in lightly salted water for an estimated 30-40mins, until tender. 

 

Prepare the chicken breast removing any fat and season with salt and pepper

.

 

Place a lemon in the oven wrapped in foil and bake for 15 to 20 

minutes.

 

Remove 

lemon 

from t

he 

foil, cut

 in half and squeeze through a 

tea strainer

, 

leaving a

 slightly thick lemon sauce. Set aside to finish your dish later. 

 

Using the 1kcal spray. 

Gently pan fry chicken breast 3-4

mins on

 both sides then place in the oven for a further 12 minutes. Ensure no pink meat and juice runs clear. 

 

Drain the potatoes, toss with 5g of olive 

spread in a pan 

over heat

, then crush lightly with the back of a fork. Stir in

 the 2 leaves of sliced wild garlic. Season to taste. 

 

In a pan of boiling water place green beans. Boil for  1,50secs this will be 

firm to the bite (al dente) if you require it softer then continue to boil for an additional 1min. Add the remaini

ng  2 wild garlic leaves in the water while straining  the green beans.

 

Pile the crushed potato and leeks in the 

centre

 of a warm serving plate. Top with green bean and wild garlic. Slice chicken breast in half place on top of green beans. Drizzle with lem

on sauce and 

finish off

 with micro cress.  

 
Nutritionals:
Calories: 347kcals 
Protein: 47.2g 
Fat: 6g 
Carbs: 24g 
If this dish is calling your name, we'd love to see your recreations or adaptations at home! Share your recipes using the hashtag #exantediet, or tag us on Instagram, Facebook and the Facebook Closed Group – let us know what you think!