Celebrate the coming of Spring the Italian way with our healthy version of a calorific spaghetti dish.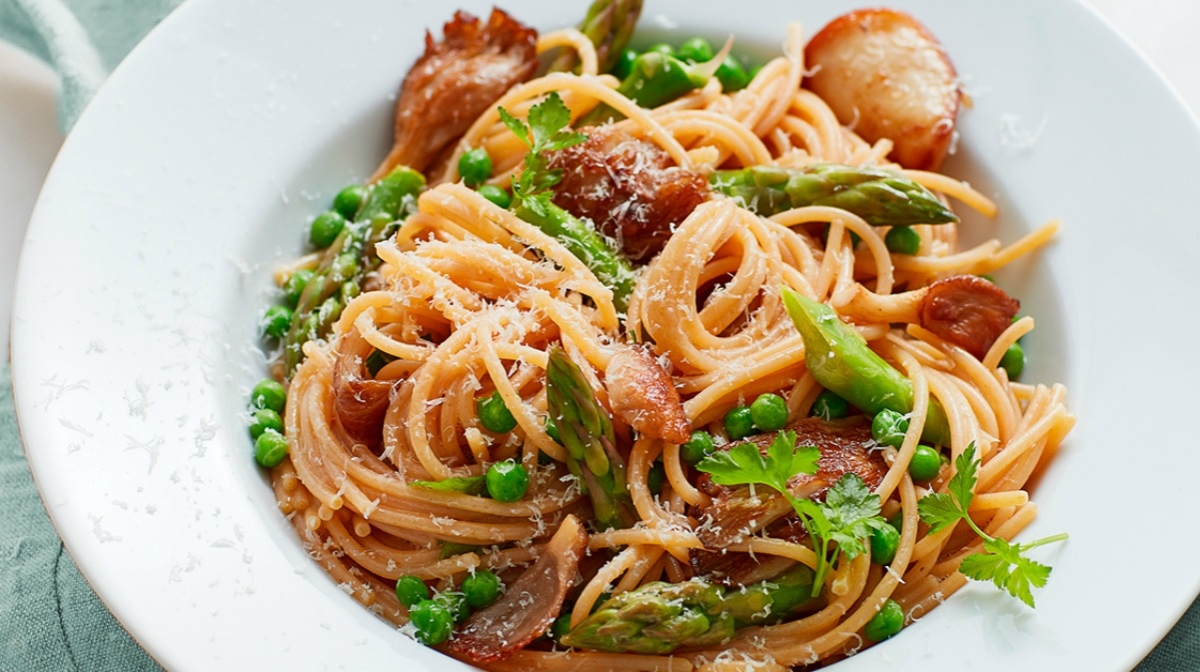 This recipe uses seasonal ingredients packed with essential vitamins.
Ingredients

400g whole wheat spaghetti pasta
2 tbsps fresh peas
2 tbsps sugar peas
3 Asparagus tips
1 sweet onion, diced
100g mixed mushrooms, sliced or quartered
100g spinach, wilted
1 tbsp olive oil
Pinch of salt and pepper
2 eggs
50g parmesan (optional)
Lemon zest (optional)
Parsley, chopped (optional)
Method
Bring a large pot of water to boil with a pinch of salt.
In a skillet, add olive oil and sauté the onion until tender over medium-high heat.
Turn the heat down to medium; add mushrooms, salt and pepper and sauté until golden and tender.
Next, add wilting greens and sauté, stirring often until just wilted. Set Aside.
Meanwhile, whisk two eggs in a small bowl. Set aside.
When the large pan of water comes to a boil, add the spaghetti and stir. Turn the heat down and cook until spaghetti is cooked to al dente.
Add the fresh peas, sugar peas and asparagus to the boiling spaghetti pot and cook for one minute. Drain pasta and vegetables. Return to the pot and turn heat off.
Pour egg/mushroom mixture over the pasta and gently stir to coat the pasta. Add cracked pepper.
Place on a platter or bowl and sprinkle with parmesan, lemon zest and parsley.
Spring into a NEW you
Our Spaghetti recipe can also be found in our NEW 28 Day Spring Edition eBook, now available to download for FREE. 

Inside you'll find everything you need; from healthy, easy-to-follow recipes using seasonal ingredients, expert articles on the benefits of exercise, and a balanced Flexi Solution meal plan developed by Exante expert nutritionists. You'll even get to meet the team and find out how they treat themselves without food!
There's no better time to transform your diet ready for the warmer weather and dare we say it, summer. In our Spring Edition, we want to inspire you to put the spring back in your step and start your journey to a healthier, happier you.
Are you ready to Spring into a new you, full of enthusiasm and ready for new food and fitness adventures?
Start your journey with Exante today and see what you can achieve by summer. Keep in touch with us @exantediet and send us your transformation photos for the chance to win a holiday and be crowned our April or May Slimmer of the Month!