An explosion of flavours from the East placed into a lettuce cup. We all love Thai food, but our cups contain half the calories and fat of big curries.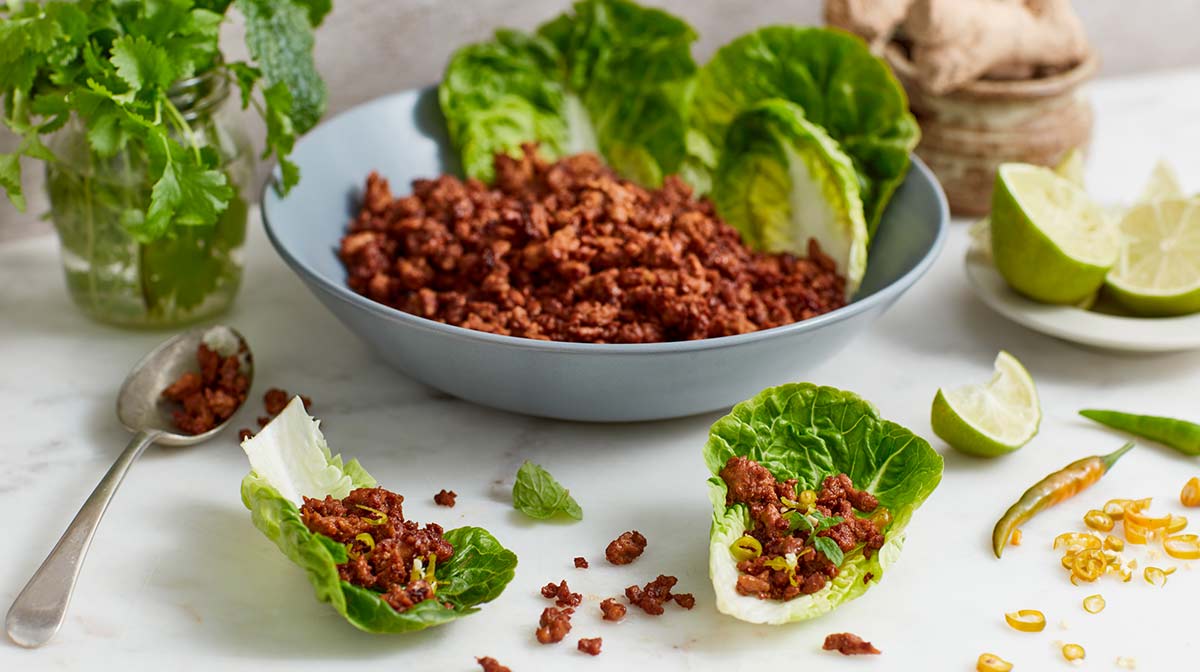 Add more chilli if you love more heat
Ingredients
1 tbsp olive oil
1 piece fresh root ginger, peeled and grated
2 garlic cloves, crushed
2 red chillies, deseeded and finely sliced
500g low fat pork mince
2 tbsp fish sauce
Juice of 1 lime
2 lime leaves, finely shredded
To serve
Iceberg or Little Gem lettuce leaves
1 handful mint, roughly chopped
Handful of toasted peanuts, roughly chopped
2 spring onions, finely sliced
1 lime, cut into wedges
Method
Heat olive oil in a large frying pan on a medium heat.
Fry the ginger, garlic and chillies for 1 min.
Add the pork mince and cook on a high heat until golden brown, breaking it up with a wooden spoon as you go.
Add fish sauce, lime juice and shredded lime leaves, then cook everything down.
Tip the mince into a serving bowl and serve with lettuce leaves for wrapping, peanuts for scattering and lime wedges for squeezing.
Spring into a NEW you
Our Thai Pork Lettuce Cups recipe can also be found in our NEW 28 Day Spring Edition eBook, now available to download for FREE. 

Inside you'll find everything you need; from healthy, easy-to-follow recipes using seasonal ingredients, expert articles on the benefits of exercise, and a balanced Flexi Solution meal plan developed by Exante expert nutritionists. You'll even get to meet the team and find out how they treat themselves without food!
There's no better time to transform your diet ready for the warmer weather and dare we say it, summer. In our Spring eBook, we want to inspire you to put the spring back in your step and start your journey to a healthier, happier you.
Are you ready to Spring into a new you, full of enthusiasm and ready for new food and fitness adventures?
Start your journey with Exante today and see what you can achieve by summer. Keep in touch with us @exantediet and send us your transformation photos for the chance to win a holiday and be crowned our May or June Slimmer of the Month!