It's time to crown our very first Slimmer of the Year Winner at Exante! 2017 was filled with success stories and incredible transformations and every single person who entered our monthly competitions was a deserving winner.
After the top 3 made it to the final, they enjoyed a luxury spa day and photo shoot before we put it to the vote. Now, your winner will be given £1500 of holiday vouchers to spend on any destination they choose! So, it's time to meet your winner…
Congratulations Charlie!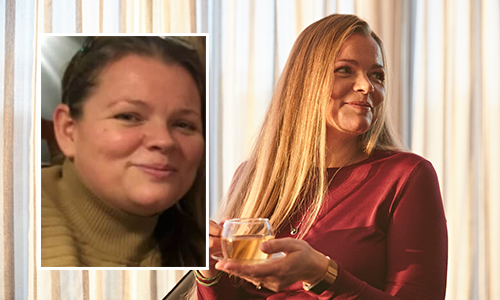 Charlie, 44
Total Weight Loss: 10st, 7lbs
Find out more about Charlie's weight loss journey.
What made you decide to lose weight? 
"I have arthritis and have had lots of ops to try and help but I never helped myself and just felt sorry for myself. I was searching the internet for help and found Exante. My 9-year-old daughter had never known me healthy and enough was enough! I realised I could lose weight or get worse and give up. I chose to fight and I am amazed to discover that with the help of Exante I could discover life. My life has changed beyond belief."
Did you follow a plan?
"Yes, the Flexi Solution".
What did you like about the plan?
"The plan gives me choices. I LOVE crisps and still can't believe Exante have them!!! I look forward to my meals where I used to hate eating and would feel guilty ALL THE TIME!!! I don't see it as a diet but a life adjustment that just suits me."
What was your life like before Exante?
"My life before Exante, I was permanently sad. I would get really, really upset about my weight and it would affect everything in my life."
What do you like about Exante?
"With Exante, I like the choice. It doesn't feel like a diet, it actually is a way of life for me now. It's changed my mentality to 'I can do things'."
How has your life changed since losing weight? Tell us your story.
"I am in a lot less pain. I still have metal holding my knees together and arthritic hands that hurt but nothing like it used too. Exante helped me when I found out I have arthritis in my hip because I knew losing weight would really help. I wake up looking forward to each day. I walk more and have even bought a swimming costume! I feel like a normal person and am no longer the fattest person in every room I walk into. I am no longer relying on other people for the solutions and feel in control of myself. I am even straying to like myself!"
What would winning Slimmer of the Year mean to you?
"Winning Slimmer of the Year would be absolutely amazing, but I already feel like a winner. Losing weight is enough of a prize to me."
We'll be following Charlie's journey this year to see what life is like now after Exante and of course, where she chooses to spend her holiday! You will be seeing plenty more of her in 2018 so keep watching to follow Charlie's story!
Want to be in with a change of winning Slimmer of the Year 2018? Enter our Slimmer of the Month Competitions to be nominated!