Which condiments are saucing up the nation?
All over the UK, foodies love a good condiment, elevating dishes from zero to hero. The majority of Brits will always have a bottle of Tommy K and mayonnaise knocking about in the fridge, and now they are getting more adventurous, with condiments like Wasabi growing in popularity.
Turn your nose up at a chip with no ketchup?
Disgusted when there's no sriracha on your noodles?
That is why here at exante, we wanted to look at what condiments were trending. By analysing search data from the UK for over 50 popular condiments, our research has revealed who reigns as Britain's king of condiments.
Sriracha is crowned the UK's favourite condiment
Sriracha has overtaken ketchup as the nation's favourite condiment! For many Brits, tomato ketchup has been a sauce the nation can rely on to put on just about anything, but a contender has been creeping up. Its name is Sriracha.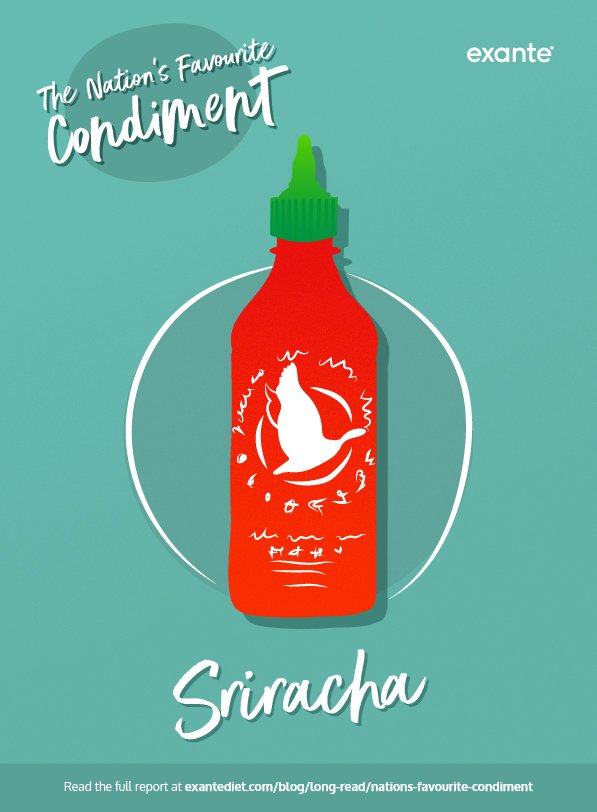 Sriracha is a type of hot sauce made up of chilli peppers, distilled vinegar, garlic, sugar, and salt. Surprisingly, it nabbed the top spot in searches across the entire UK! Our study also found the favourite condiment in the top cities and Sriracha took the crown in six out of the 30. Its spicy flavour has won over the nation and knocked ketchup off its top spot. We bet you're shocked. 
Wondering where ketchup came in terms of the nation's favourite condiment? Don't worry, it came in second place, and wasabi and mayo followed in third and fourth. With Sriracha and wasabi appearing in the top three, the nation is clearly looking to spice things up by bringing some heat to the table!
| | |
| --- | --- |
| # | The Nation's Top 10 Condiments |
| 1 | Sriracha |
| 2 | Ketchup |
| 3 | Wasabi |
| 4 | Mayonnaise |
| 5 | Chimichurri |
| 6 | Worcestershire Sauce |
| 7 | Piri Piri |
| 8 | Brown Sauce |
| 9 | Harissa |
| 10  | Sour Cream |
Top condiments by city
We looked at the overall search volume for the UK and all the cities to see which condiment came out on top. But has it caused a divide?
Glasgow, Cardiff, Belfast, Northampton, Wolverhampton and Bournemouth are all huge lovers of Sriracha, with Glasgow searching for Sriracha an average of 8,832 times.
It's no shock that Geordies love their food, but their top sauce was a little unusual. A1 is a tangy and delicious way to spice up beef, and with over 3,800 searches, it must be good. 
Londoners searched for wasabi a huge 327, 636 in a year, showing just how much they love hot Japanese horseradish.
The north/south divide deepens when it comes to condiments, with the north favouring the classic ketchup, whilst the south spice things up with the new favourite, sriracha. 
Try our low calorie sweet and sour noodles recipe for a tasty dish to cover in sriracha. For Ketchup, our low-fat herby burger is the perfect partner.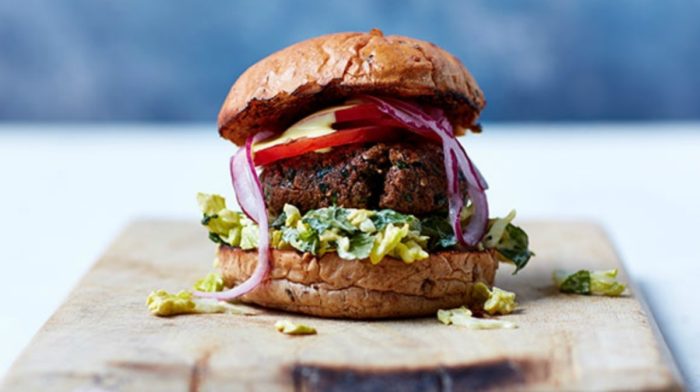 Finally! A healthy burger recipe you don't have to feel guilty about.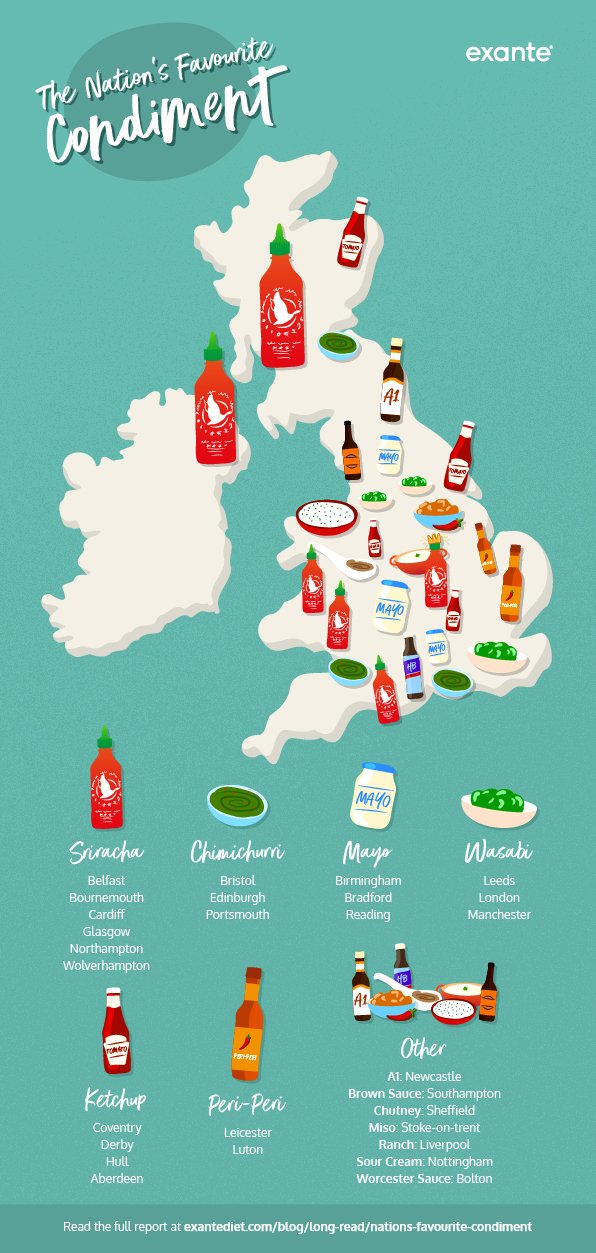 Condiments of the future
Our study went on to compare YoY search volumes, showing which condiments are growing in popularity and will be the future tasty trenders to try.
| | | | |
| --- | --- | --- | --- |
| Condiment | Jan Search Volume    | Dec Search Volume    | Change |
| Lingonberry jam | 700 | 1,240 | 77.14% |
| Piccalilli | 4,250 | 7,440 | 75.06% |
| Truffle Oil | 5,170 | 7,960 | 53.97% |
| Thousand Island dressing    | 2,000 | 3,030 | 51.50% |
| Chutney | 6,600 | 9,610 | 45.61% |
| Jeotgal | 110 | 150 | 36.36% |
| Datu Puti vinegar | 120 | 150 | 25.00% |
| Sour Cream | 9,170 | 11,260 | 22.79% |
| Gochujang | 8,150 | 9,980 | 22.45% |
| Currywurst sauce | 660 | 740 | 12.12% |
Lingonberry jam is a staple food in Northern European cuisine and highly popular in Central and Eastern Europe. It's slowly made an appearance in the UK with over 77% more people searching for the item each month. 
So what about it makes it so popular? 
Lingonberries have a tart flavour and are mainly used in jam. Being well known for their health benefits, they contain a lot of antioxidants, vitamins, and minerals. 
If you need inspiration on what you can pair with your homemade condiments, then check out our tasty range of low-carb meals.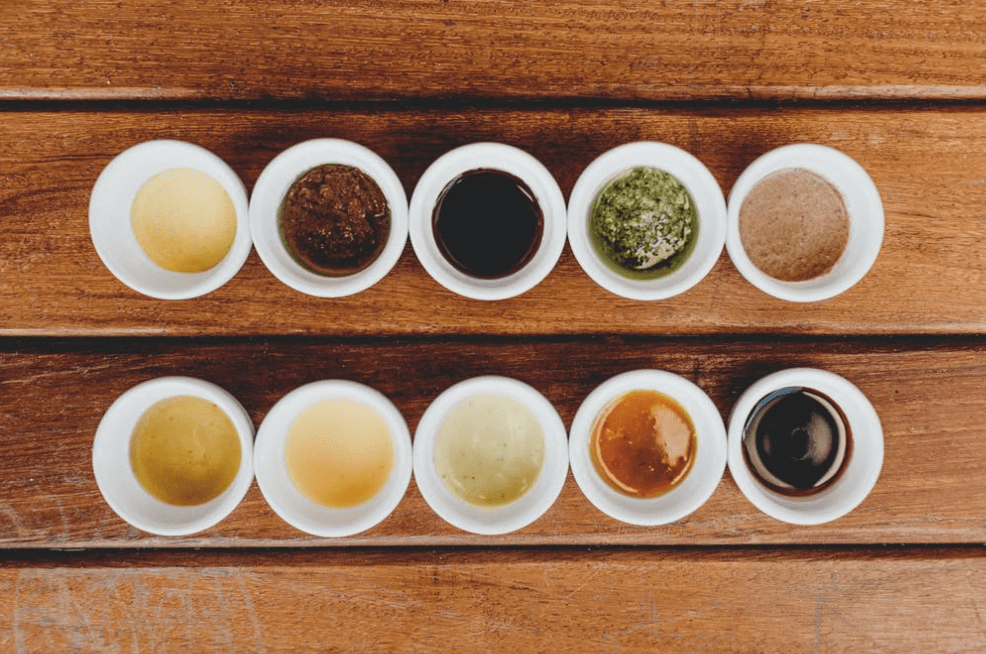 The condiments we are making at home
What better way to spend time in lockdown than by having a go at making your own favourite condiments?  We looked at searches for recipes for each condiment to reveal what people are making at home as a fresher and healthier alternative to those that are store-bought. 
Salsa is Brit's favourite condiment to make at home
| | |
| --- | --- |
| Condiment | Average Recipe Search Volume |
| Salsa | 170700 |
| Mayonnaise | 62172 |
| Tartar sauce | 48108 |
| Aioli | 41376 |
| Chimichurri | 41316 |
| Jam | 38892 |
| Sour Cream | 38064 |
| Curry Sauce | 34752 |
| Hoisin sauce     | 28620 |
| Chutney | 25608 |
No surprises here that salsa reigns top for the most searched recipe. It's known as one of the best condiments to have alongside a Mexican, and with 271,836 searches, some may argue that it tastes better homemade. 
Mayonnaise comes in second place for the most searched condiment recipe, with 173,412 searches. Mayonnaise has quite a neutral taste with a tang of mustard, but everyone will agree it can elevate any meal. 
Tartar sauce is like the yin to yang in terms of fish and chips. It's tangy taste gels perfectly with fish and has 155,940 searches on how to recreate it. 
Aioli came in 4th place with 165,048 searches on how to make the garlicky sauce, the perfect partner for dipping chips. For all you garlic lovers, this is the condiment for you. 
So what's your favourite condiment? Do you prefer something spicy or something sweet? 
We've created four tasty and quick recipe cards for the most-searched-for recipes, so you can make the top condiments at home and enjoy with family, or all to yourself!
If you are not a savoury fan, but still love a good sauce, try exante's range of low-calorie syrups, to satisfy your sweet tooth without the sugar.