World Mental Health Day
We all have those days when we wake up feeling a little worse for wear and it's difficult to lift our spirits. It happens to the best of us- we're only human! That's why this World Mental Health Day we're exploring how you can manage your emotions and whether food affects mood.
Want to know how
 our mood and emotions affect our weight? Read on as we reveal the connection
s
 between
mood 
and
 food. 
Check out the video below where NHS Doctor, Dr Frankie Jackson-Spence shares her tips on living a happy life this World Mental Health Day. 
How does mood affect our daily life?
Nowadays, we don't prioritise our happiness as much as we deserve. We don't often look at how our mental health can be affecting our lives, but maybe it's about time we did. The connection between our mental health and our physical health is strong because our mood can affect us in so many ways; from our brain and our body to the relationships we have with our loved ones.  
The good news is that it doesn't take a lot to cheer us up. Even something as little as finding a £1 in your supermarket trolley, or having a delicious sweet treat can boost our mood [1]. 
What's the connection between mood and food?
Using food as an occasional treat or reward isn't such a bad thing. Food should be celebrated after all! But, when we start to habitually use food as a coping strategy, rather than tackling the issue at hand, problems occur and we can quickly find ourselves stuck in a bit of a rut [2].
See, when we're emotional eating, we're not usually physically hungry. More likely, we're eating to dampen how we feel. We also tend to reach for high calorie, high fat or sweet foods that create a temporary satisfaction. Soon after, once we've realised what we've done, we often experience negative feelings, like guilt and shame – you see how quickly this can become an endless cycle? 
So, how can we break the cycle?
Here's a few little things we can do: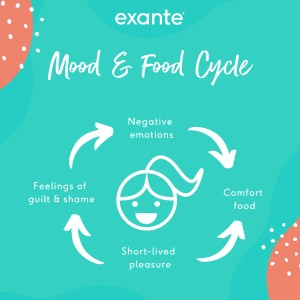 Can food raise our mood this World Mental Health Day?
How about the other way around? Does what we eat affect our mood? The answer, in short, is yes. 
This World Mental Health Day, we're offering our best tips for ensuring your food isn't controlled by your mood.
Eat regular

ly

– the more regular our meals,

the more stable our blood sugar levels. 

 

Slow-release

 carbs

 – complex, high fibre carbs like whole

grain bread, brown rice and oats, move slowly through the digestive system,

 resulting in a more graduate blood sugar rise.

 

Eat protein

 – protein also moves slowly through the digestive system. When combined with carbs, it can help dampen the impact on our blood sugar levels.

 

Eat a rainbow

 – 

eating a wide variety of fruit and veg provides us with the nutrients our bodies need to stay happy

 [2]

. If you're replacing most of your meals with 

exante

 shakes

 and 

bars

, don't worry. They're all enriched with all the essential

s, so you can 

lose

 weight whilst getting all the

 

vit

amin

s and minerals

 your body needs

!

 

Cut down on caffeine

 – 

too much caffeine can make us feel 

anxious

 or 

depressed

 and can also stop us getting a good night's sleep. Need a replacement? Have you tried our

 

energising

 

caffeine free 

BURST?

 

Fibre

 – 

fibre loves our gut! Not only is it digested slowly, it also helps

 

keep 

things moving – if you know what I 

mean? 

The happier we are on the inside, the happier we are on the outside

 [3]

.

 

Intolerance

 – 

some times our bodies don't react well with certain foods. If you experience this, it's worth checking with a registere

d nutritionist or 

dietitian

 to rule out any concerns. Some people find that switching t

o our 

delicious

 dairy-free

 

exante 

vegan

 range

 helps reduce symptoms.