Over the past year, we have been blown away by the hundreds of inspirational weight loss success stories we have received. Losing weight is a challenge, but these stories are proof that with dedication and hard work it is possible to transform your body and achieve your weight loss goals!
We have shortlisted three incredible stories for our Slimmer of the Year competition. Collectively, these three members of the Exante family have lost over 22 stone (311lbs) and have transformed their lives. Keep reading to find out more about their Exante success stories.
Our Slimmer of the Year will receive a luxury spa day for two, so that they can relax in style and celebrate their incredible achievements! Vote NOW for your Slimmer of the Year (voting will close on 31st January and winner will be announced on 1st February).
Here are our shortlisted Slimmers…
Meet Lucy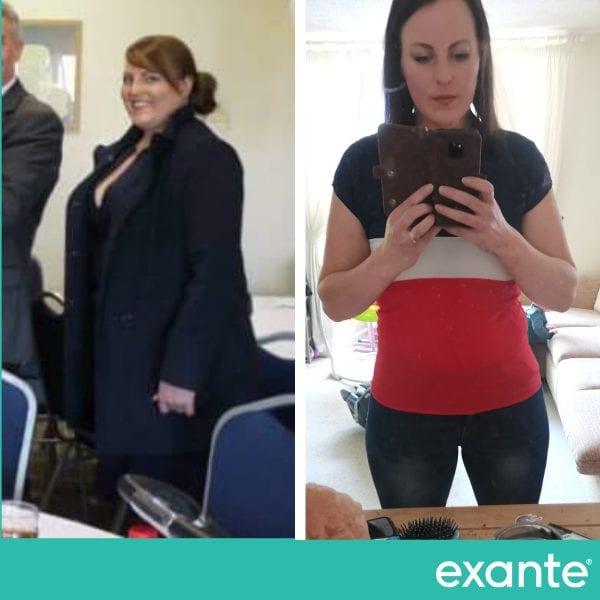 Lucy, age 29
Starting Weight: 18st 2lb
Current Weight: 12st 0lb
Total Weight Lost: 6st 2lb 
Lucy decided to kickstart her weight loss journey with Exante to shift the weight she had put on after giving birth to her second child. "At my heaviest, I was in size 20 clothes, which were tight! I found my energy levels were low and I found it hard to play with my children, especially on the beach running around. I wanted to be a mum that could keep up with them both!"
"I found Exante easy to follow and fit in around my lifestyle. By taking food out of the equation, I found it easier to focus on my weight loss and learn boundaries with food." After just 4 weeks, Lucy dropped a dress size and her family and friends began to comment on her weight loss.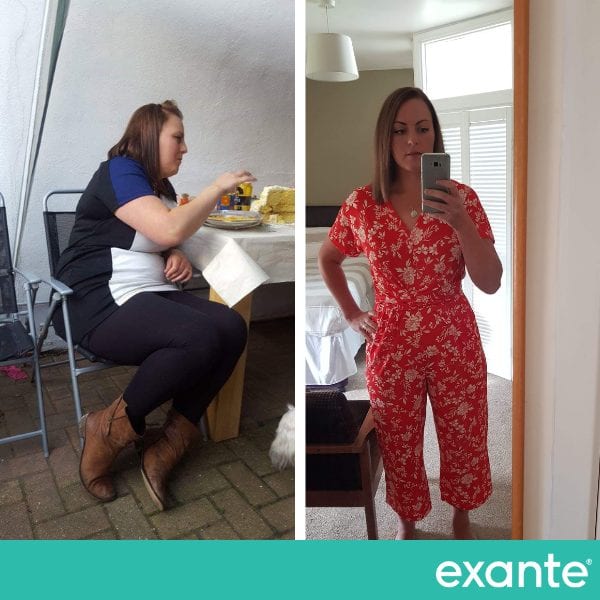 Without Exante I wouldn't have made it this far and have the confidence and energy I now have.
Since losing weight, Lucy has a new-found confidence and love for fitness. "Before losing weight I was very self-conscious – we had just moved to a new area and I was reluctant to go and meet new people because of the way I felt. Now I have joined a local boot camp, made lots of friends and love exercising!"
Lucy's top piece of advice for anyone starting Exante is to stay strong and "get through the first week – after that the hunger and cravings do start to lessen. Use the Facebook group for support and encouragement. Order one or two of each product to find what you like; everybody's tastes are different. Keep in mind why you are doing it and remember that when the cravings are strong."
"I would just like to say thank you to Exante and everyone who has supported me through my weight loss. Without Exante I wouldn't have made it this far and have the confidence and energy I now have."
Meet John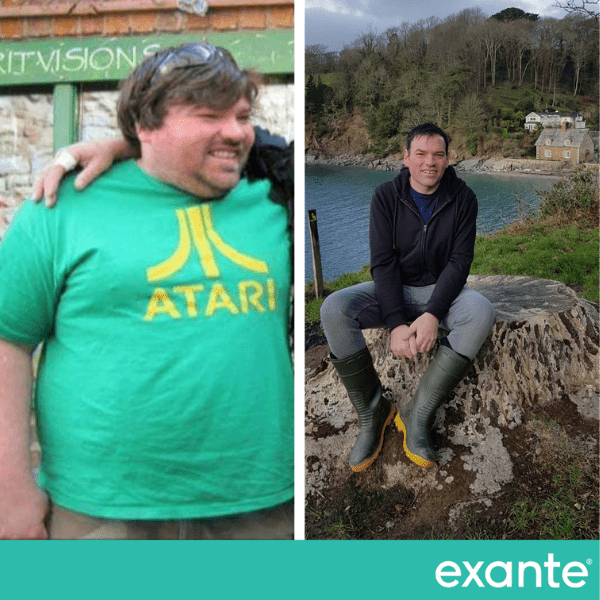 John, age 38
Starting Weight: 19st 9lbs
Current Weight: 13st 2lbs
Total Weight Lost: 6st 7lbs
Before starting Exante, John's weight meant that he struggled to do physical activity, which made his jobs as both a carpenter and a father extremely difficult. "I wanted to do more with my little boy as my weight was holding me back".
"Being a tradesman, the Exante diet suits my lifestyle perfectly! I usually have a shake at 6am, another shake at 1pm and a bar later on in the day. Every time I'm hungry I either have a bottle of sparkling water or a coffee!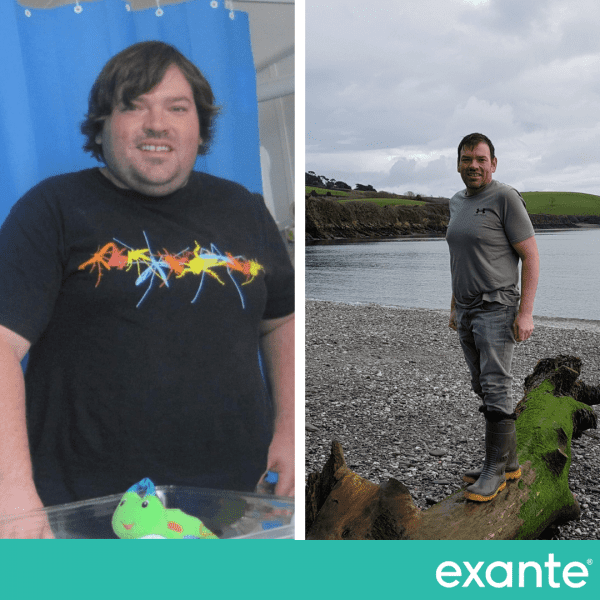 The Exante diet is the best thing I have ever done. I have never felt so well and happy!
Since starting Exante in June 2018, John has lost well over 6 stone and has completely transformed his body. "The thought of going back to living the weight-restricted life that I was leading before Exante has kept me going. I'm never going back there. And I need to stay on track with my weight loss for my little boy!"
"Exante has changed my life tremendously. I no longer hurt when I get home after a full day at work. Before Exante, I lacked confidence in public, but after losing weight I am happier and much more confident. My son and I do a lot more and we are now hooked on rollercoasters that I could not go on before losing weight! We had an amazing time at Legoland together!"
Meet Amy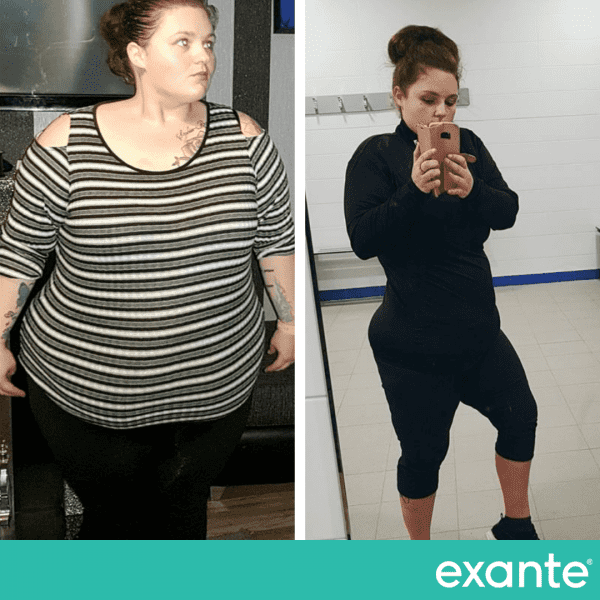 Amy, age 29
Starting Weight: 22st 10lbs
Current Weight: 12st 13lbs
Total Weight Lost: 9st 8lbs
After struggling with her weight for most of her life, in January 2018 Amy decided it was time to change. "I decided it was time to focus on myself and my weight loss. As a mother, I realised that I needed to lose weight – not only for myself, but for my children".
Before Amy started Exante, she found everyday tasks difficult. "I struggled with walking around the shops and getting in the car with the seat belt on. But those days are long behind me!"
"I first started to notice the little things, like being able to run up the stairs and carry my daughter without struggling. Most people I know can't believe how much weight I've lost and how dedicated I am!"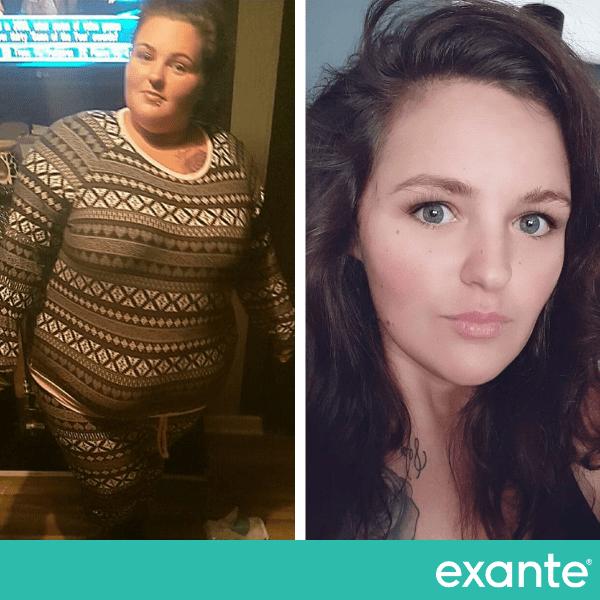 Most people I know can't believe how much weight I've lost and how dedicated I am!
"My advice to anyone on the diet is take it slow – it's not going to happen overnight; your body needs time to adjust to the lifestyle change! Make sure you keep your water topped up and keep your mind busy to distract yourself from any cravings you might have!"
"The one main thing that Exante has taught me is that I can control food, it does not control me! I've learnt the difference between when I am hungry and when I am just bored. If you are thinking about starting Exante, it's totally worth the hard work – just stay strong and stick at it!
VOTE NOW for your Slimmer of the Year! Click here to vote. Voting will close on 31st January and winner will be announced on 1st February