There's nothing better than a bowl of hot porridge to warm you up when it's cold and wet outside. It really is true that porridge can be a 'great way to start your day', as oats provide a great source of slow releasing energy. And with almost 17g of protein and 4g of fibre, an Exante Porridge really makes for the perfect breakfast!
We have put together some low-calorie porridge recipes to inspire your Exante breakfast. We have also included all the nutritionals and calorie information to make sure you know which porridge recipes are best for each of our plans!
1. Sweet 'n' Simple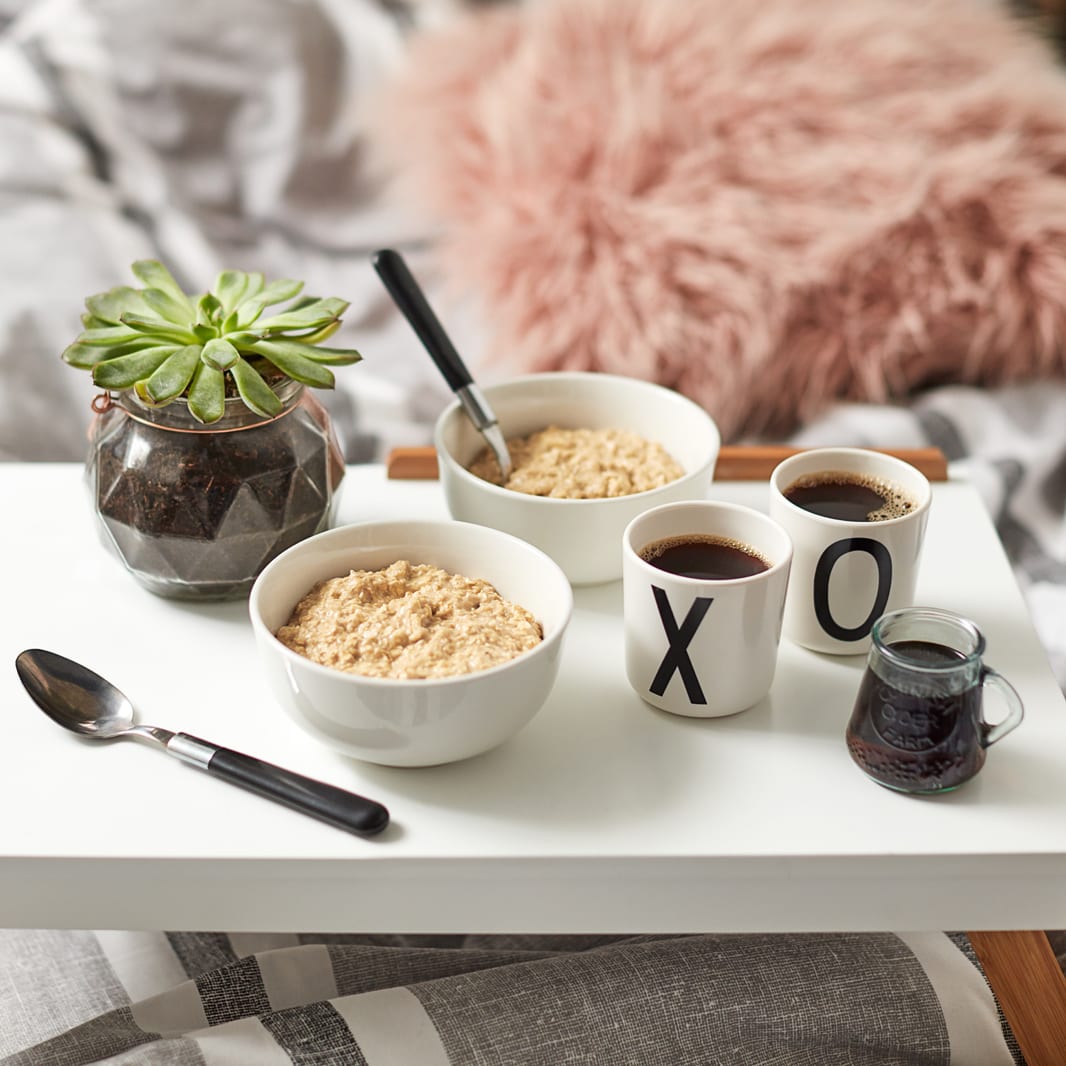 This simply sweet porridge recipe takes it back to basics with a simple steaming bowl of porridge mixed in with your choice of Exante Zero Sugar Syrup! This recipe is perfect for those following our Exante 800 Calorie Diet plans.
Ingredients:
1 Sachet Exante Original Porridge
5g Exante Zero Sugar Raspberry Syrup or Exante Zero Sugar Maple Syrup
200ml Water
Recipe:
Empty Sachet into a bowl and add 200ml water. Microwave on 800w for 60 seconds. Stir, then heat for another 60 seconds (mix halfway through!)
Nutritional information:
Calories: 200, Protein: 16.9, Fibre: 6.6g, Fat: 6.6g, Carbohydrates: 17.1g
2. Spiced Winter Warmer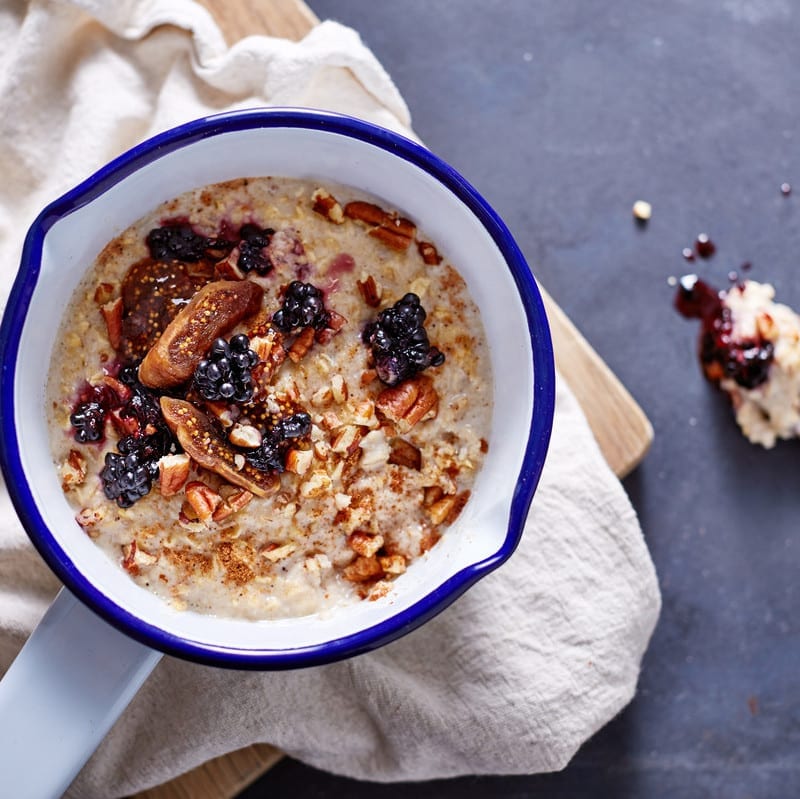 If you are a lover of warming, spiced flavours, this recipe is perfect for you! With added chia seeds and cinnamon, this porridge is the perfect way to spice up your breakfast! Plus, at only 232 calories per serving (or 207 calories without the chia seeds) this recipe is a delicious, low-calorie option.
Ingredients:
1 Sachet Exante Original Porridge
1 tsp Cinnamon
1 tbsp Blackberries
1 tsp Chia Seeds
200ml water
Recipe:
Mix together the porridge mix, water, cinnamon and chia seeds together well. Microwave as instructed above. Top with your blackberries and enjoy!
Nutritional information:
Calories: 229, Protein: 17.9g, Fibre 5g, Fat: 7.6g, Carbohydrates: 19.1g
3. Warming Hot Choco-Oats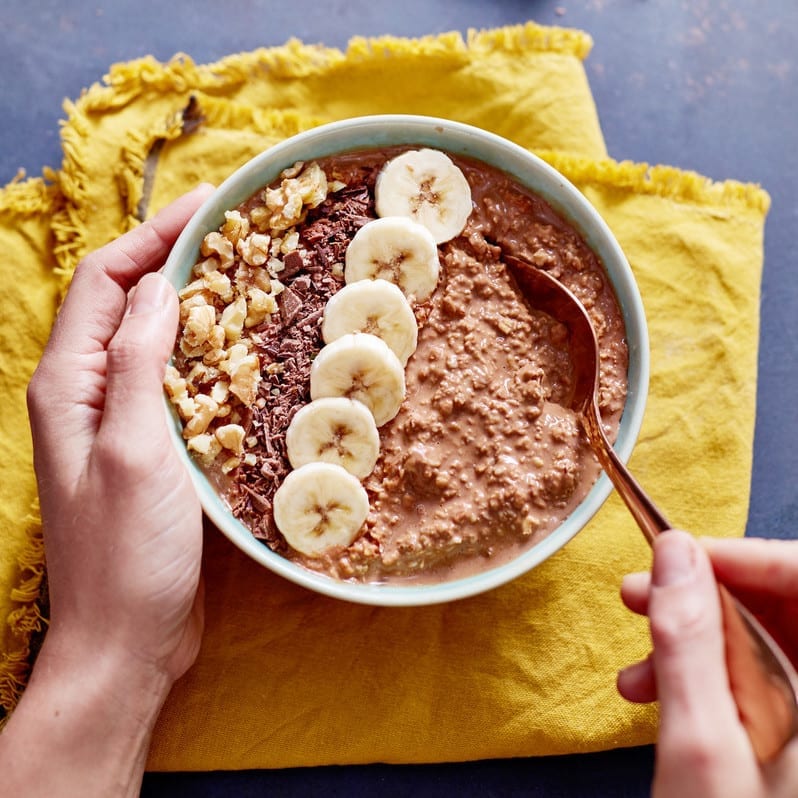 If you are a chocaholic, this oats recipe is perfect for you! Not only is this low-calorie porridge recipe packed full of protein and fibre, but also delicious chocolatey flavour!
This porridge recipe is still low in calories, at just 318 calories per serving, making it the perfect high-protein option for Food Week! If you want to add the banana, this will add just 53 calories and will also boost the fibre and potassium content of your porridge!
Ingredients:
1 Sachet Exante Original Porridge
1 tbsp cacao
1tbsp peanut butter
200ml water
Half ripe banana (optional topping!)
Recipe:
Mix together the Exante Porridge, water and cacao and microwave for 60 seconds. Add in peanut butter and stir in well, then microwave for further 60 seconds. Serve with a sprinkle of cacao (or optionally add your diced banana to the top!)
Nutritional Information:
Calories: 318, Protein: 22.5g, Fibre: 5.8, Fat: 14.7g, Carbohydrates: 21.2g
(With half banana: Calories: 371, Protein: 23.2g, Fibre: 7.4g, Fat 14.9g, Carbohydrates: 34.7g)
If you are on food week, and want to get creative with your porridge recipes, why not top with some walnuts, seeds or fruit to boost your breakfast? Here are some topping suggestions for your porridge recipes and their nutritional values to help you stay on track with your diet:
7 chopped walnuts – Calories: 183, Protein: 4.3g, Fibre: 1.9g, Fat: 1.7g, Carbohydrates: 3.8g
2tbsp raw cacao nibs – Calories: 94, Protein: 1.9g, Fibre: 1.6g, Fat: 8.3g, Carbohydrates: 2.3g
Half medium chopped banana – Calories: 53, Protein: 0.7g, Fibre: 1.6g, Fat: 0.2g, Carbohydrates: 13.5g
2 tbsp sunflower seeds – Calories: 103, Protein: 4g, Fibre: 2g, Fat: 1g, Carbohydrates: 3g
3 tbsp shredded coconut – Calories: 100, Protein: 1g, Fibre: 1g, Fat: 10g, Carbohydrates: 4g