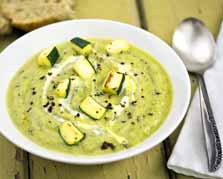 If you're feeling a bit under the weather, then this is the soup for you. This is one of our favourite Ketosis recipes and it is really easy to make. Courgettes are low in calories but the high water content ensures you feel fuller for longer - perfect if you're on the VLCD or LCD diet. Courgettes contain an effective amount of both immune boosting vitamin C and potassium, beneficial in the control of high blood pressure. The fibre in the courgettes skin can aid in the prevention of constipation, a possible side effect of ketosis.
Garlic contains a powerful antioxidant whilst displaying a beneficial effect on blood pressure in people with hypertension. As a result it has the added benefit of making a healthier heart.
As it's so low in calories you may fancy a sprinkle of cheese on the top. Strong flavours like mature cheddar or parmesan work great, 10g will add approximately 40kcal to the meal and extra protein.
View Recipe